Posted by: Loren Coleman on March 24th, 2007
Bigfoot! The True Story of Apes in America
Here's a new quiz that goes to the depths of your knowledge on Sasquatch and Bigfoot research. I'm joking, of course, for it is only ten questions long, but it is a good survey of some high points of your awareness of the field. It is more difficult than the previous quiz: Quiz – All About Hairy
The same comment guidelines apply, as with the CZ IQ quiz. Please don't ruin the intrigue and fun for people coming after you, even months from now. So, simple rules: You post any answers, proper names, clues, or subjects that hint at the correct selections, and your comment is deleted. Just share your results, if you wish and how those make you feel. There's some misspellings in the quiz that I'm going to tell it's creator about, but they don't get in the way of understanding what selections the quizmaker is giving you. Good luck.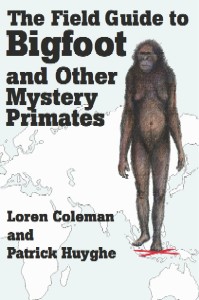 The Field Guide of Bigfoot and Other Mystery Primates
Thanks to Wolferun for the suggestion and link.
Loren Coleman – has written 5489 posts on this site.
Loren Coleman no longer writes for Cryptomundo. His archived posts remain here at Cryptomundo.