Posted by: Scott Mardis on March 18th, 2014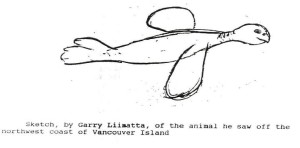 Recently on Cryptomundo, attention was brought to the alleged "sea monster" 8mm film taken by the late Garry Liimatta (1944-2012) in May 1969 off of Vancouver Island, B.C., Canada.
Whatever it was, it appears to have been relatively large. Liimatta described a large turtle-like animal with an 8 foot long neck. Little known is that he also made an eyewitness sketch.
---