Posted by: Craig Woolheater on March 9th, 2007
Big news for UFOmystic's Nick Redfern!
According to Variety, his book Three Men Seeking Monsters: Six Weeks in Pursuit of Werewolves, Lake Monsters, Giant Cats, Ghostly Devil Dogs, and Ape-Men has been acquired by Universal.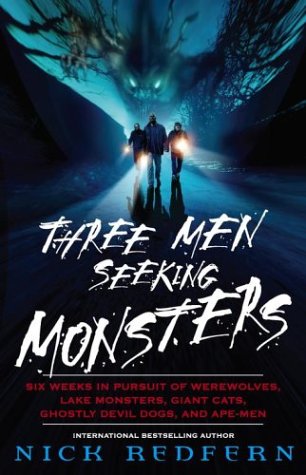 Universal acquires 'Three Men'

Film being developed as a vehicle for Heder

Universal Pictures has acquired the Nick Redfern novel "Three Men Seeking Monsters: Six Weeks in Pursuit of Werewolves, Lake Monsters, Giant Cats, Ghostly Devil Dogs, and Ape-Men."

The hope is to develop a film that could be a vehicle for Jon Heder, the "Napoleon Dynamite" star who's about to open opposite Will Ferrell in "Blades of Glory."

Jon, Doug and Dan Heder's U-based Greasy Entertainment banner will produce with Ken Atchity of Atchity Entertainment Intl.

In the book, three guys who've separately chased monsters and UFOs unite for one last hurrah, taking one last caravan to every place in the British countryside where monsters have allegedly been spotted.

Book, a cult favorite in Britain, was published by Simon & Schuster.

Chi-li Wong will be exec producer, and Mike Kuciak will be a co-producer.Michael Fleming
Variety
Following is what other sources are saying regarding this exciting crypto movie deal.
Another Studio Gives Jon Heder a Project

One of the scenes you'll probably never see in the CHUD.com movie involved a couple of minor characters hunting for the autographs of famous — and not-so famous — monsters. The next best thing might be Nick Redfern's novel Three Men Seeking Monsters: Six Weeks in Pursuit of Werewolves, Lake Monsters, Giant Cats, Ghostly Devil Dogs, and Ape-Men. The book is a travelogue, in which Redfern and two friends traipse across hill and dale in the UK, getting soused at pubs while attempting to track down several of the island's more storied, and possibly mythical, inhabitants.

Now, in a move that resembles, and possibly even tops the casting of an American as the lead of The Beach, Universal has picked up the novel to develop as a vehicle for…Jon Heder? Heder and his brothers Doug and Dan will produce the picture under their Greasy Entertainment banner in collaboration with Ken Atchity.

It's not that I don't understand the thought process here — Three Men Seeking Monsters is a great story idea, no matter where it's set. You've got three friends, all of whom are real-world 'monster hunters', uniting for a last guy's trip out to the country, drenched in beer and folklore. So yes, Heder could work this into something suitable for his…appeal…just as well as Fox Animation could use the framework to revive the Chipmunks. With Jason Lee on board, they'd really have something!

So maybe, when I really think about it, it's not that the book is being developed for an American star, because that could probably work. The problem lies entirely with the fact that the star is Jon Heder.Russ Fischer
Chud.com
and
Try to fit this title on a marquee: Three Men Seeking Monsters: Six Weeks in Pursuit of Werewolves, Lake Monsters, Giant Cats, Ghostly Devil Dogs, and Ape-Men. It's the name of a book by Nick Redfern that Universal has just bought the rights to. Now get this: the book is non-fiction. Redfern is a Ufologist and his book tells of his adventure with two buddies as the trio visited legendary mysterious places around Great Britain, including Loch Ness. The best part is that Redfern is a punk, one of his friends is a goth herpetologist (a reptile and amphibian expert) and his other friend is 6'6″ and 400 pounds. Basically, this is the book I was craving as a subculture-centered, Fortean-minded, mysteries-of-the-unknown-obsessed teenager.

Fortunately, I never knew about this book (actually it came out many years after I'd stopped reading about UFOs and such), because if I was a fan and had looked forward to it being adapted into a movie, I would have been very disappointed to learn that Jon Heder is set to star. The one-note Napoleon Dynamite actor, who is surprisingly not yet a has-been despite not yet starring in another hit since his cult-fave introduction, will be producing with his brothers, Doug and Dan (his twin! there's two of them!), and he is expected to play the author (who is bald). I'm not sure who he could get to play the big guy, but for the goth herpetologist let me suggest Heder's School for Scoundrels co-star Todd Louiso, who has at least played a snake expert amusingly before, and who I can totally imagine dressing up to play Vampire: The Masquerade. Christopher Campbell
cinematical
Nick Redfern played by Napoleon Dynamite, hmmmmm? I'll have to see it to believe it…
About Craig Woolheater
Co-founder of Cryptomundo in 2005. I have appeared in or contributed to the following TV programs, documentaries and films: OLN's Mysterious Encounters: "Caddo Critter", Southern Fried Bigfoot, Travel Channel's Weird Travels: "Bigfoot", History Channel's MonsterQuest: "Swamp Stalker", The Wild Man of the Navidad, Destination America's Monsters and Mysteries in America: Texas Terror - Lake Worth Monster, Animal Planet's Finding Bigfoot: Return to Boggy Creek and Beast of the Bayou.