Posted by: Craig Woolheater on September 24th, 2017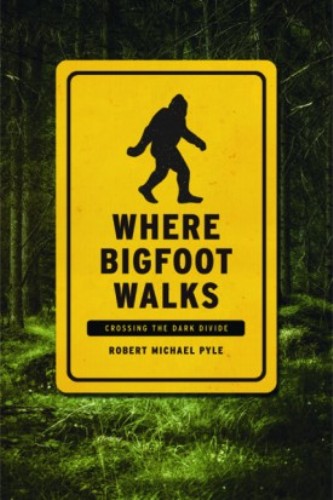 Before Bigfoot became a supermarket celebrity, a TV star, a freak-show prisoner and an overall joke, it was a creature of traditional mythology. An endless mystery.
Robert Michael Pyle once asked a tabloid editor why he traffics in Bigfoot trash — like "I Was Bigfoot's Love Slave!" and "Hillary Names Bigfoot as Running Mate!" — and the frank reply was, the real world is boring. People wouldn't buy that stuff otherwise.
"That was the saddest thing of all, to me," Pyle said. "To one whose eyes are open, the world is never boring."
Pyle, an author and ecologist based in Gray's River, will visit Vintage Books in Vancouver on Sunday afternoon to speak and sign copies of a new edition of his classic exploration of the facts, myths and cultural meaning of Southwest Washington's resident legend.
"Where Bigfoot Walks," first published in 1995, has a new afterword in which Pyle considers the latest clues, discoveries and hints that keep pointing toward the genuine presence of a species of extremely shy humanoid giants — perhaps an evolutionary dead-end — in and around the Dark Divide, a triangle of remote, roadless land east of Mount St. Helens.
Pyle, a Yale-trained ecologist and the author of 20 books, is plenty wary of fraud and skeptical of ignorance, flimsy claims, fanciful theories. He prefers what's simple, logical, provable.
"When in doubt, throw it out," he said. "I'm a person trained in science."
"Where Bigfoot Walks" chronicles many crestfallen moments when eager, wide-eyed Bigfoot hunters crash into reality: the weird, haunting cry on someone's precious "definitive recording" of Bigfoot is obviously a barred owl; those strange fur samples, when analyzed in a lab, turn out to belong to bear or elk or other familiar mountain inhabitants.
Between the always-credulous faithful (whom Pyle credits with having "vacuum-packed oatmeal" for brains), the hard-headed skeptics and the plentiful fraudsters, Pyle said, whatever may be real and meaningful about Bigfoot has just about drowned in cultural noise.
But Pyle also points out that the infamous minutelong film fragment of Bigfoot lurching away into some woods, shot in 1967 in Northern California and known as the Patterson-Gimlin film, has been analyzed by many scientists and never debunked. What has been debunked, he said, are the numerous fraudsters claiming to be the actor inside the Bigfoot suit. The mystery of the Patterson-Gimlin film remains.
And, several times across the years, Pyle himself has chanced upon immense animal tracks in the Dark Divide that definitely do not belong to any known creature. He's had his photos and evidence checked out by fellow scientists; they haven't been able to explain any of it away, he said.
Open to wildness
Exploring Bigfoot only opened Pyle's mind to the possibilities, he said. He likes the view of Smithsonian primatologist John Napier, who said: Either there's a truly vast, complex, sophisticated conspiracy that keeps manufacturing just enough good Bigfoot evidence to keep the myth alive — or "the animal exists," Pyle said simply.
Pyle doesn't endorse any answer. Openmindedness is a main theme of this book, which is just as much an exploration of human attitudes toward big mysteries as it is a travelogue through Bigfoot's local landscape. The main place where Bigfoot really walks, Pyle writes, is inside our minds; one reason why humans are so consistently intrigued by this particular myth is that Bigfoot is not some bizarre alien being but our close, recognizable, relatable cousin.
"My particular agenda for this book is not to prove or disprove," he said. "It's to try to help make the case for conservation of the Dark Divide. The area that gave me this book is the largest unprotected wilderness in Washington state. It should be part of the federal wilderness system. I hope the book helps make a case for that.
"Bigfoot shows what could have been and what still could be, if we only treated the land as if it were really there," he writes. "The very wildness from which the Bigfoot myth emanates is disappearing fast."
If You Go
• What: Reading from "Where Bigfoot Walks: Crossing the Dark Divide" by Robert Michael Pyle.
• When: 2 p.m. Sunday.
• Where: Vintage Books, 6613 E. Mill Plain Blvd., Vancouver.
• Admission: Free; books will be for sale.
About Craig Woolheater
Co-founder of Cryptomundo in 2005. I have appeared in or contributed to the following TV programs, documentaries and films: OLN's Mysterious Encounters: "Caddo Critter", Southern Fried Bigfoot, Travel Channel's Weird Travels: "Bigfoot", History Channel's MonsterQuest: "Swamp Stalker", The Wild Man of the Navidad, Destination America's Monsters and Mysteries in America: Texas Terror - Lake Worth Monster, Animal Planet's Finding Bigfoot: Return to Boggy Creek and Beast of the Bayou.