Posted by: Craig Woolheater on July 14th, 2013
Cryptomundian PhotoExpert solves the case!
People, people, I have a definitive answer for you. So DWA, time to wake up! I have solved this mystery and I will disclose the answer later in my post.
No, it is not a Sasquatch, so if you guessed Sasquatch, you would be wrong!
Those of you that guessed bear, would also be wrong.
For those of you who were noncommital and could not make up your mind and stated human or BF–way off the mark. We do not need any human to stand there as a point of reference. Why go through all that trouble when I can merely enhanced the photos to give more detail? I'll admit, the crappy webpage style resolution was not very workable but I still was able to come to a conclusion on what it is.
Those of you that guessed human, would be correct. However, you might be wrong if you stated human in a ghillie suit or human in a costume.
Click on image for full-size version
cryptokellie was on the right path in his/her critical thinking, so a thumbs up goes out to cryptokellie.
The person who came closest to having it almost spot on was chadgatlin!!! Two thumbs up for an unbelievable answer.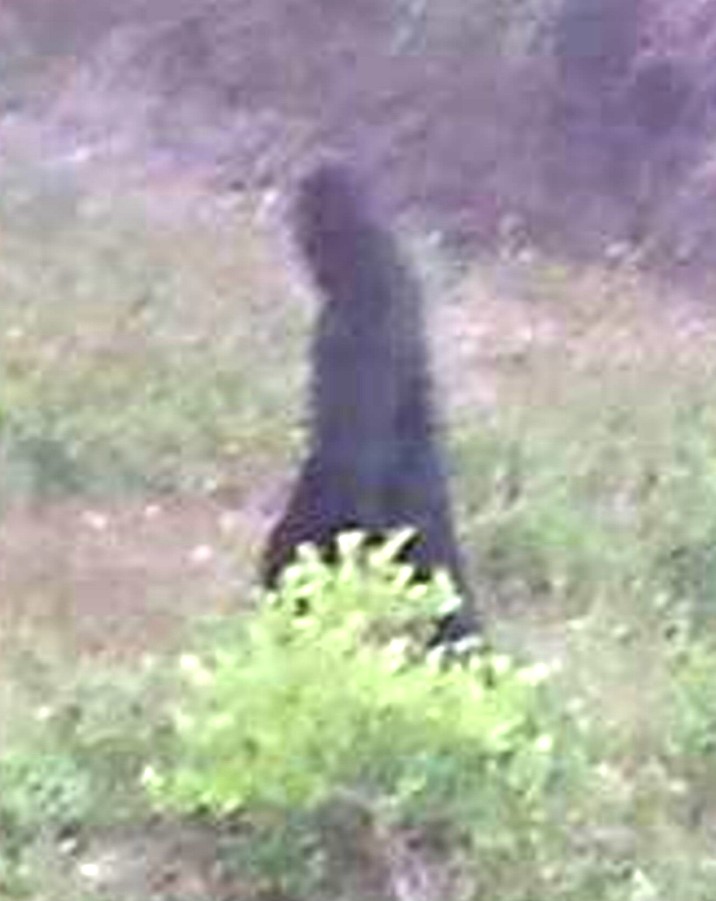 Click on image for full-size version
Only two of the photos were usable for photo analysis. What I found out through photo analysis of two of these photos was indeed, chadgatlin's theory about the rain jacket does have legs.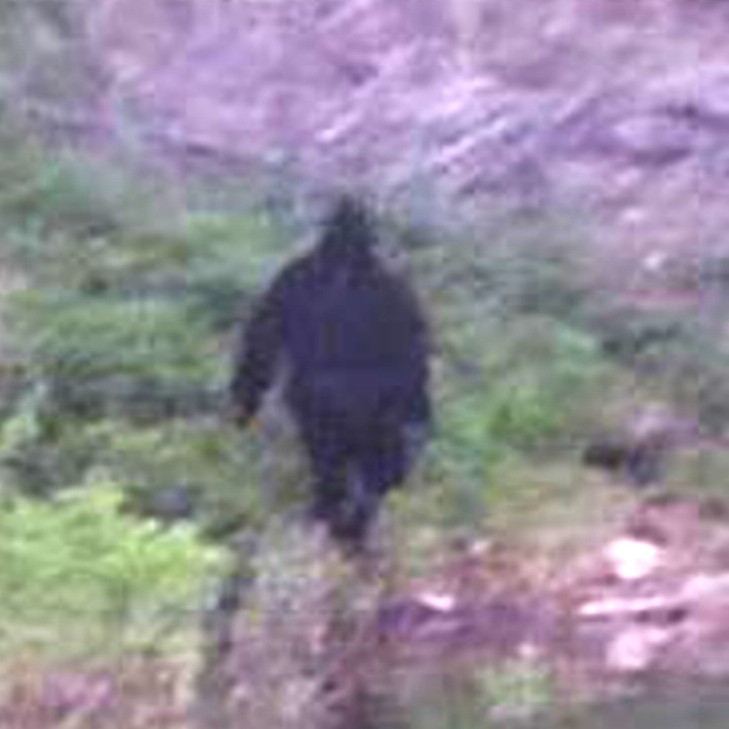 Click on image for full-size version
What I found was a male human in a camouflage style matching rain jacket and pants. And get this, the human in this photo also has a pretty flat back and is wearing one of those floppy style fishing hats. In addition, the subject in this photo is wearing calf high rubber wadding boots. He is also carrying something, although there is not enough detail there to know exactly what, I presume it to be a tackle box or a small case of some kind.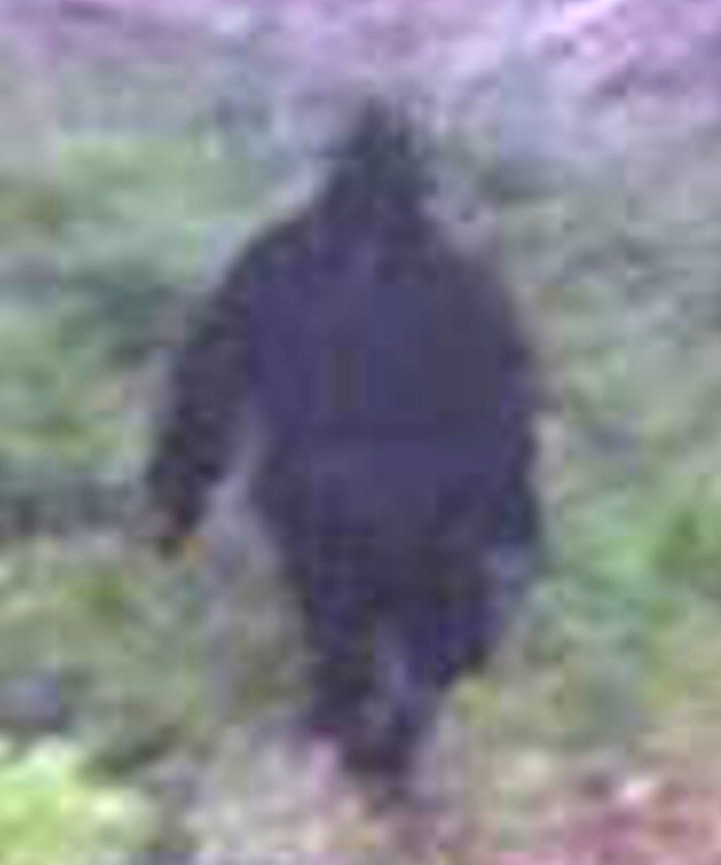 Click on image for full-size version
I do not know how the person taking this photograph would see anything but a human through a first hand eyewitness account! We are looking at low resolution photos, so it would be easy for us as viewers to maybe think it was a Bigfoot. However, after seeing the detail after photo analysis, it would be damn near impossible for the photographer who was there to draw the conclusion that this might be a BF. It is clearly human! Secondly, it is beyond me how the person submitting these photographs on behalf of the photographer could not identify it as a human. I imagine the resolution of the photos they had, were much more detailed than these webpage photos that were supplied.
The photographer was not hoaxed by someone in a suit or pretending to be a Bigfoot. Either the photographer and/or the person who submitted these photos are trying to hoax us.
So check back to see the results and you will know what I already know and what chadgatlin guessed correctly.
It is a fisherman!!!
About Craig Woolheater
Co-founder of Cryptomundo in 2005. I have appeared in or contributed to the following TV programs, documentaries and films: OLN's Mysterious Encounters: "Caddo Critter", Southern Fried Bigfoot, Travel Channel's Weird Travels: "Bigfoot", History Channel's MonsterQuest: "Swamp Stalker", The Wild Man of the Navidad, Destination America's Monsters and Mysteries in America: Texas Terror - Lake Worth Monster, Animal Planet's Finding Bigfoot: Return to Boggy Creek and Beast of the Bayou.