Posted by: Craig Woolheater on April 1st, 2014
Bigfoot Photo Bomb in our Southern Oregon Habituation Area (SOHA)
In September of 2013, I completed a four-night stay in our Southern Oregon Habituation Area (SOHA). As usual, I placed a Peanut Butter Jar and Apple off the trail for the SOHA Squatches to enjoy in my absence. I made my way back to the trail and I felt like I was being watched. So I started taking "SELFIES" and slowly moving around in a 360 degrees circle. 400 miles later, I returned home to Puyallup WA. I started listening to my 40 to 50 hours of audio recordings while looking at my pictures. That's when I noticed in one of the pics that Atlas, the Official Mascot of Team Squatchin USA, was staring at something.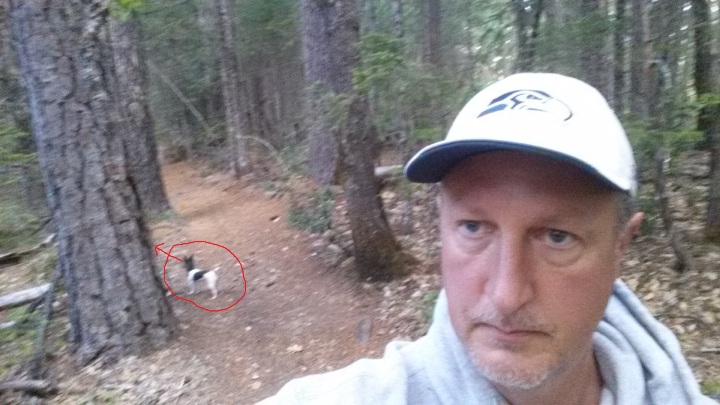 Normally, Atlas runs around in the woods while sniffing, peeing, sniffing, peeing, sniffing, peeing. It's not his Modus Operandi (MO) to stand still and stare at something for an extended period of time …….. unless it's a Squatch. Atlas has only done this on two times and it was in our Washington Habituation Area. We were Photo Bombed on both of those occasions (Please see my Blog titled "Bigfoot Photo Bomb in our Washington Habituation Area"). Anyway, I looked at the next picture that I took while I was slowly turning around in a 360 degrees circle and I discovered what Atlas was staring at.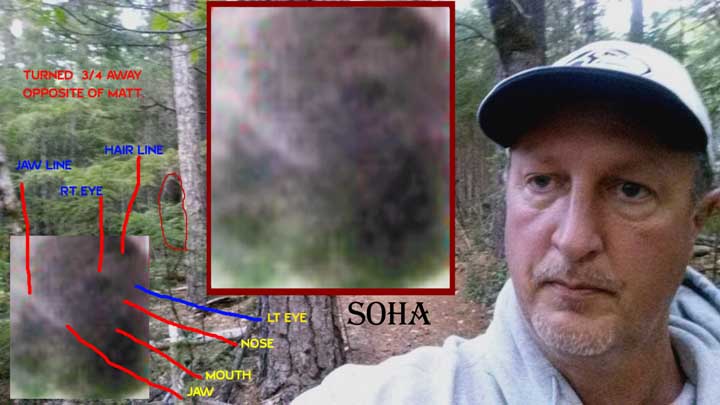 Read the full report here for additional info and photos.
Team Squatchin-USA
Website
Facebook
About Craig Woolheater
Co-founder of Cryptomundo in 2005. I have appeared in or contributed to the following TV programs, documentaries and films: OLN's Mysterious Encounters: "Caddo Critter", Southern Fried Bigfoot, Travel Channel's Weird Travels: "Bigfoot", History Channel's MonsterQuest: "Swamp Stalker", The Wild Man of the Navidad, Destination America's Monsters and Mysteries in America: Texas Terror - Lake Worth Monster, Animal Planet's Finding Bigfoot: Return to Boggy Creek and Beast of the Bayou.