Posted by: Craig Woolheater on October 23rd, 2014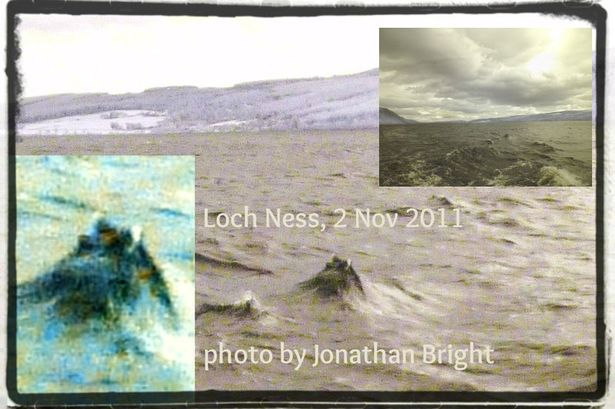 Unseen infrared image of Loch Ness Monster Nessie to be revealed at Paranormal Festival
Leading paranormal investigator Jonathan Bright will travel from his home in Greece to Scotland to deliver his views on an intriguing image he captured in late 2011 of a strange "monstrous head" coming out of the waters of Loch Ness.
The picture was published in 2013 and has since led to a great deal of discussions and analysis.
Its impact on what is known about the legendary monster will be a key theme explored by Mr Bright at "Is Nessie Paranormal" during the Paranormal Festival in Stirling from 30 October to 2 November.
As well as delving into the picture itself, the audience will be taken on a journey back into Loch Ness Monster folklore to discover similar views of new and past researchers in their effort to understand the "Nessie" phenomenon.
After the festival Mr Bright will return to Loch Ness to launch a new investigation into the dark waters of this famous Scottish landmark.
"My travels for exploring legends and investigating mysterious phenomena have taken me to various places in Europe, but nowhere else have I felt so enchanted and connected with the place as at the mysterious Loch Ness," said Mr Bright.
"It was only a brief trip in the Highlands, but on the day that I was actually cruising the Loch, my infrared camera had captured a picture that, in my opinion, proves that the 'monster' is much more than a tall tale.
"Of course, a picture alone will never be able to stand out as 'unambiguous' evidence, let alone provide adequate answers to all of our questions on the exact nature of the phenomenon that we call Nessie.
Read the rest of the story here.
The Scottish Paranormal Festival
Cryptozoology Session
Jonathan Bright and Jonathan Downes
Is Nessie Paranormal?
Friday 31st October 2014
10.00-11.00am
Jonathan Bright will be presenting his views on the possible relation of the Loch Ness 'monster' to the paranormal and his analysis of a recent photo he took on the loch, along with other mind-boggling images from his investigations in Scotland.
A leading paranormal investigator from Greece, Jonathan has written extensively for magazines and is the co-author of 7 compilation books. Over the years, he has researched classic legends throughout the world & has frequently appeared on TV. His latest Loch Ness article & infrared picture created worldwide interest after having been published in the Fortean Times.
The Chupacabras of Puerto Rico
Friday 31st October 2014
11.00am-12.00pm
In the mid-1990s in Puerto Rico a series of grotesque vampiric attacks on livestock took place on a high grassland plateau.
They coincided with reports of sightings of a peculiar semi bipedal creature with spines on its back. In 1997 and again in 2004 Jon Downes went to investigate the matter…
Jonathan is a veteran cryptozoologist and Director of the Centre for Fortean Zoology, the world's largest cryptozoological research organisation. He has edited and contributed to numerous other publications over the years and is also an activist for mental health issues.
About Craig Woolheater
Co-founder of Cryptomundo in 2005. I have appeared in or contributed to the following TV programs, documentaries and films: OLN's Mysterious Encounters: "Caddo Critter", Southern Fried Bigfoot, Travel Channel's Weird Travels: "Bigfoot", History Channel's MonsterQuest: "Swamp Stalker", The Wild Man of the Navidad, Destination America's Monsters and Mysteries in America: Texas Terror - Lake Worth Monster, Animal Planet's Finding Bigfoot: Return to Boggy Creek and Beast of the Bayou.