Posted by: Craig Woolheater on February 13th, 2013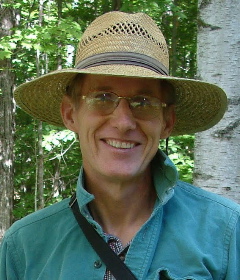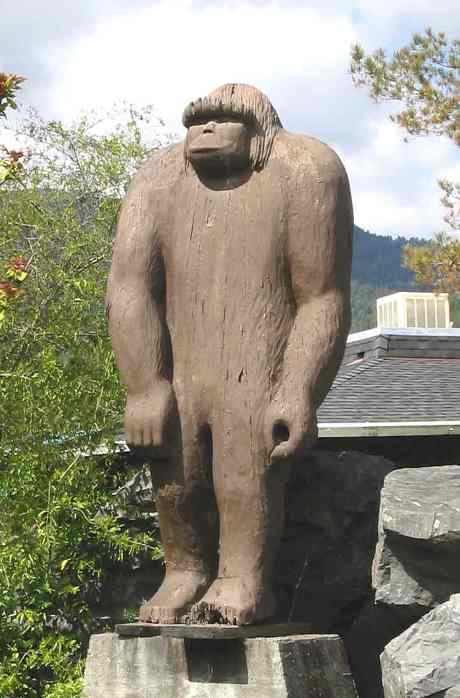 The statue of Bigfoot carved by Jim McClarin from 1967-1969 in Willow Creek, CA.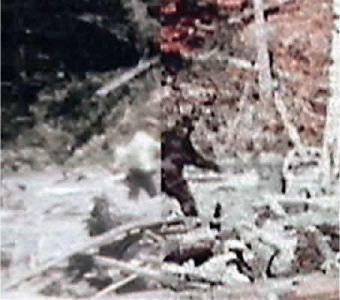 John Green's 1968 recreation of the PGF on-site at Bluff Creek, featuring Jim McClarin walking in more or less the same track-way as the Bigfoot Patterson-Gimlin film subject.
Posted by Jim on his facebook page today and shared here on Cryptomundo with permission:

Regarding the alleged impending release of the DNA studies on supposed Bigfoot/Sasquatch specimens by Dr. Melba Ketchum, a forensic DNA specialist, I am nonplussed by the denovojournal.com site on which her paper is reportedly going to be released. However, let's consider the reported results: human mtDNA (genes found in the mitochondria of the cell) and exotic nuDNA (genes found in he nucleus of the cell), in other words a hybrid creature. This implies maternity by a human woman and paternity at some point by a fully exotic creature.
There have been reports of both human males and human females having sexual experiences with Sasquatch. It's possible that viable offspring have issued from such activity and that there is a hybrid population of creatures. Since there are only a relative few samples in Ketchum's study, the finding that all showed human mtDNA means that all the samples were in the lineage of a male-non-human/female-human bond since mtDNA is passed down only via the mother. It doesn't necessarily mean that the immediate mother was not herself a hybrid or even that the father was not a hybrid, only that some female in the lineage was purely human and the rest of the females in the lineage have been either fully human or hybrids carrying the human mtDNA.
Assuming for argument that Ketchum's results are accurate, they say nothing about whether the whole Sasquatch population has human mtDNA. If the original non-human species exists in pure form or if the male -human/female-non-human bonds were viable, there could be Sasquatches running around with non-human mtDNA.
In other words there could be two types of mtDNA in these creatures, one of which simply didn't appear in any of the Ketchum samples. Note that, even in bondings between the two theoretical mtDNA types, the mtDNA of the mother would be carried through to the offspring. There is no way to blend mtDNA types, only nuDNA.
What would such hybridization imply for the field researcher? It would seem to imply more human traits, including size, hair, body build, facial characteristics, and behavior. Researchers have noted differences in body type and size among sighting reports that could signify genetically pure Sasquatch vs. creatures of various extents of hybridization.
Hybridization also implies that the genetically pure Sasquatch is/was very closely related to man and is not an ape since all known apes have 24 chromosome pairs and humans have 23 chromosome pairs, making viable ape/human meiosis highly unlikely from natural fertilization.
(Full disclaimer: I have a non-monetary bet on Sasquatch being in the same family as man.)
Assuming again for discussion the validity of Ketchum's findings, what does the future of Bigfoot/Sasquatch research look like? I would expect the gathering of range and behavioral data to be HUGE but also huge would be the search for non-hybrid Sasquatch and for non-human mtDNA hybrid examples.
While the impending full release of Ketchum's findings appears to take the cake for inauspicious beginnings, let us remain open to what we can actually glean from the findings that may help in future research efforts.
About Craig Woolheater
Co-founder of Cryptomundo in 2005. I have appeared in or contributed to the following TV programs, documentaries and films: OLN's Mysterious Encounters: "Caddo Critter", Southern Fried Bigfoot, Travel Channel's Weird Travels: "Bigfoot", History Channel's MonsterQuest: "Swamp Stalker", The Wild Man of the Navidad, Destination America's Monsters and Mysteries in America: Texas Terror - Lake Worth Monster, Animal Planet's Finding Bigfoot: Return to Boggy Creek and Beast of the Bayou.