Posted by: Craig Woolheater on June 7th, 2016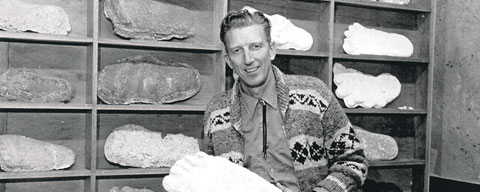 As we noted earlier here at Cryptomundo, John Green passed away late last month, and it was made public today.
Loren eulogized John at his blog, but he also covered the supposed Sasquatch Death Curse at his Twilight Language blog:
Have there been special Sasquatch events occurring at this time of year?
Historically, we do know late May was significant in British Columbia, regarding Sasquatch and the Native Peoples. Indian Agent J. W. Burns (who coined the term "Sasquatch") recorded how the local First Nations people felt their Forest Giants were very real, during the May 23, 1938 celebration of a festival known as "Indian Sasquatch Days," held at Harrison Hot Springs, British Columbia. Harrison Hot Springs was where John Green called home, and was later elected mayor there.
But now John Green is gone. His legacy lives on. And he leaves much to ponder in the research he did. One thing he seems to have proven: There is no Bigfoot curse. Nevertheless, Green was squarely in the middle of revealing that this "Sasquatch hex" actually existed.
As I observed in my book, Bigfoot: The True Story of Apes in America (2003), some people believe, "To encounter a Bigfoot is to die."
For others that might be translated into "to study Bigfoot is to die."
This early consideration grew out of one often-told story by John Green (who was born February 12, 1927). Writing about the Ruby Creek incident of 1941, Green, who was the first to chronicle it, mentioned that for "an Indian to see a Sasquatch was believed to be bad luck, in fact the observer was in danger of dying."
Then Ivan Sanderson propelled the "if you see a Bigfoot you die" legend into the lore of the field with a short passage in his 1961 book, Abominable Snowmen: Legend Come to Life. Therein, Sanderson referred to the primary witnesses in the Ruby Creek incident, the Chapmans: "It is just as well that we crossed the Fraser River just when we did, and so met the Chapmans, because about a month afterward they were drowned crossing at the same spot late one night. The irony and tragedy of this event upset me greatly…. The Chapman family at the time of the incident consisted of George and Jeanne Chapman and three children."
The Chapmans had their sighting in 1941 and died in 1959–about 18 years later – although the point Sanderson was making is that relatively soon after he interviewed them they died. The folklore lives on.
People die. It is part of the human condition. In actuality, there is no "Sasquatch death curse." There is only sadness that we have no control of when death occurs. And that someone has moved on.
John Green got involved in serious Sasquatch research in 1956. He died 60 years later. The "Bigfoot curse" never touched him, except in a positive fashion.
About Craig Woolheater
Co-founder of Cryptomundo in 2005. I have appeared in or contributed to the following TV programs, documentaries and films: OLN's Mysterious Encounters: "Caddo Critter", Southern Fried Bigfoot, Travel Channel's Weird Travels: "Bigfoot", History Channel's MonsterQuest: "Swamp Stalker", The Wild Man of the Navidad, Destination America's Monsters and Mysteries in America: Texas Terror - Lake Worth Monster, Animal Planet's Finding Bigfoot: Return to Boggy Creek and Beast of the Bayou.