Posted by: Craig Woolheater on April 3rd, 2014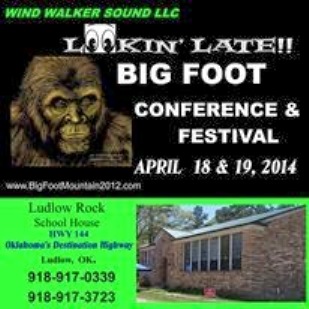 As any bigfooter knows, southeast Oklahoma is a hotbed of bigfoot activity. The terrain is rugged, mountainous, and perfect habitat for sasquatches. And, like so many other areas where bigfoots roam, the local humans have come to celebrate the big guys' presence.
This April 18 and 19, there will be a public bigfoot festival in the Little River Valley located in the Kiamichi Mountains outside of the small town of Honobia. The conference organizers are doing two festivals a year now, one in spring and one in fall.
For more information on this gathering, click here.
"LOOKIN' LATE" BIG FOOT FESTIVAL & CONFERENCE
APRIL 18 & 19, 2014
Why is this called "LOOKIN' LATE" Simply because the Choctaw word "Hon okbia", translates into English Looking late.
Welcome to the beautiful Kiamichi mountains and the Little River Valley. This area has had numerous sightings and reported experiences with something big and hairy. Could have been Big Foot, could not have been. One thing is certain, things happen in our neck of the woods that affects the whole world.
With all the area sightings and the T.V. Programs regarding Sasquatch, Big Foots, and other unusual happenings it's only proper that there be two times a year to open up Big Foot's back yard and invite "Clans wanting to Know" to gather and hear new information and visit with others who've had an unusual experience.
This being a family oriented gathering (biological, or camaraderie) everyone is invited to become a part of the Honobia Big Foot Family. We can all gain insight into Sasquatchery together.
After this past winters' cold, ice, and snow it will be a welcome sight to walk the 10 acres of fresh new green colors interspersed with the brilliantly clean whites of the dog woods.
So pack up the babies and grab the ole ladies and everyone go to Big Foot's Permanent Show At Ludlow Rock School House.
We'll be waiting to welcome you––- Logan Williams
Please check out all of our new information pages for new and exciting events during the "Lookin' Late Big Foot Festival & Conference 2014".
About Craig Woolheater
Co-founder of Cryptomundo in 2005. I have appeared in or contributed to the following TV programs, documentaries and films: OLN's Mysterious Encounters: "Caddo Critter", Southern Fried Bigfoot, Travel Channel's Weird Travels: "Bigfoot", History Channel's MonsterQuest: "Swamp Stalker", The Wild Man of the Navidad, Destination America's Monsters and Mysteries in America: Texas Terror - Lake Worth Monster, Animal Planet's Finding Bigfoot: Return to Boggy Creek and Beast of the Bayou.