Posted by: Craig Woolheater on March 14th, 2015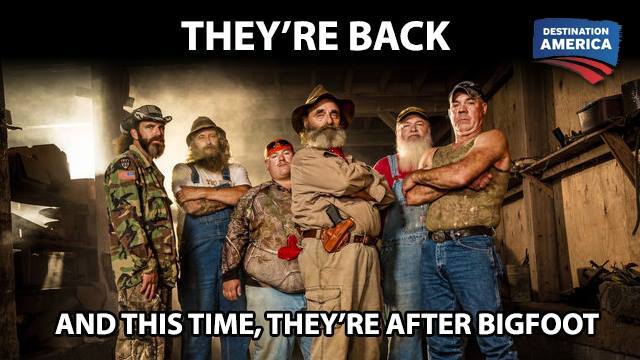 Mountain Monsters: Bigfoot of Putnam County
Premieres Saturday, March 14 at 10/9 pm c on Destination America
Also airs:
Sunday, March 15 at 1/12 am c
Tuesday, March 17 at 7/6 pm c
Wednesday, March 18 at 2/1 am c
Saturday, March 21 at 9/8 pm c
Sunday, March 22 at 12 am/11 pm c
Sunday, March 22 at 4/3 am c
Saturday, March 28 at 8/7 pm c
Saturday, March 28 at 11/10 pm c
Sunday, March 29 at 3/2 am c
Saturday, April 4 at 8/7 pm c
Appalachian Investigators of Mysterious Sightings travel to Putnam County, WV to investigate the Chupacabra, known as the West Virginia Vampire. The team must meet with eyewitnesses and build an elaborate maze trap in an attempt to capture the creature.
Chupacabras are four-foot tall canines with sharp fangs that the team believes originated in Costa Rica, migrated north to Appalachia, and are now killing indiscriminately and terrifying locals. Ever since team leader Trapper first heard about Chupacabras in the 1990s, while fighting off vampire bats in Central America, he has been obsessed with capturing one of these beasts. The mystery of Chupacabras deepens when AIMS learns the bodies of their prey are vanishing after the blood has been sucked out. AIMS builds a massive box maze trap designed to contain as many of these Chupacabras as possible and arrives at the next step in their quest when they learn that, no matter what cryptozoic creature they go after, Bigfoot is not far behind.
See also:
This Video Evidence Of the Chupacabra Will Have You Running Scared
Mountain Monsters: Bigfoot Edition
Season 3 of 'Mountain Monsters' Premieres Saturday, March 7th
Pop the Moonshine! Mountain Monsters Renewed for Season 3
#MountainMonsters #DestinationAmerica
About Craig Woolheater
Co-founder of Cryptomundo in 2005. I have appeared in or contributed to the following TV programs, documentaries and films: OLN's Mysterious Encounters: "Caddo Critter", Southern Fried Bigfoot, Travel Channel's Weird Travels: "Bigfoot", History Channel's MonsterQuest: "Swamp Stalker", The Wild Man of the Navidad, Destination America's Monsters and Mysteries in America: Texas Terror - Lake Worth Monster, Animal Planet's Finding Bigfoot: Return to Boggy Creek and Beast of the Bayou.