Posted by: Craig Woolheater on November 4th, 2013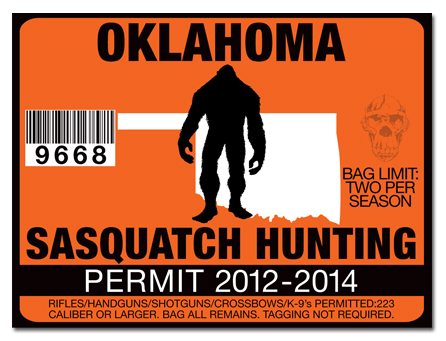 Breaking: Man shoots friend during a hunt for Sasquatch
A man is shot in Rogers County (OK) Saturday evening by his friend, while they were hunting for Sasquatch.
Deputies say the sober two men were back-to-back in a forest, when a coyote spooked the shooter. The guy then spun and shot his friend in the back.
The victim called his girlfriend who came and picked up both men. Deputies say the victim was taken to a Quiktrip near 161st and Admiral to call for help. No word on why they didn't just go to the hospital.
Tulsa police, EMSA and deputies received the call about the shooting just before 10 p.m.
Deputies say the victim was transported to an area hospital where he's now stable.
No word on what charges, if any, his friend will face.
According to another report, there were arrests made:
Three Arrested, One Shot In Rogers County Sasquatch Hunt
ROGERS COUNTY, Oklahoma –
Rogers County Sheriff's Department arrested three people in what appears to be an accidental shooting. One of the men told deputies he'd shot his friend while the two were on a Sasquatch hunting expedition.
The two men were hunting – apparently for Bigfoot – around 177th East Avenue and Tiger Switch Road Saturday night. Omar Pineda reportedly heard a "barking noise," jerked and shot his friend in the back, authorities say.
"When you start off with an explanation like that, do you believe anything after that?" Sheriff Walton said Sunday morning.
The men met emergency responders at a QuikTrip near Interstate 44 and 161st Street. The wounded man is expected to survive.
Pineda, 21, was arrested for reckless conduct with a firearm and obstruction.
Deputies also arrested Perry Don James, Pineda's father-in-law. James threw his son-in-law's gun in a pond on the property because he is a convicted felon and was afraid to have the gun on his property, the Sheriff said.
James, 53, was booked on complaints of felon in possession of a firearm and destruction of evidence.
The shooting victim was also carrying a gun, though he dropped it when he got shot, according to a news release. That gun has been recovered.
Deputies arrested 22-year-old Lacey Jane Pineda, Omar's wife, for obstruction because she told police at one point that someone else had shot at her husband and his friend, according to RCSO.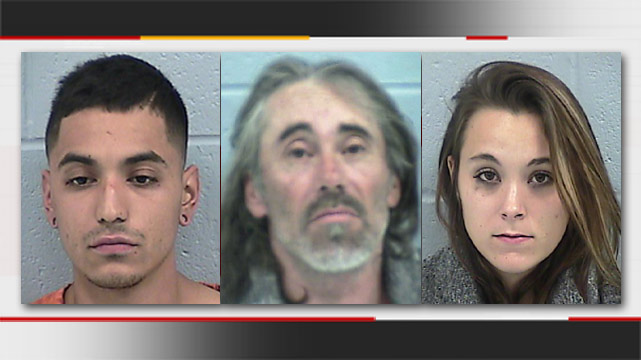 Walton said the incident is still under investigation. Authorities haven't yet determined whether drugs or alcohol were involved, he said.
"It probably was an accidental shooting," Walton said. "Our efforts now are to locate the weapon that was used."
About Craig Woolheater
Co-founder of Cryptomundo in 2005. I have appeared in or contributed to the following TV programs, documentaries and films: OLN's Mysterious Encounters: "Caddo Critter", Southern Fried Bigfoot, Travel Channel's Weird Travels: "Bigfoot", History Channel's MonsterQuest: "Swamp Stalker", The Wild Man of the Navidad, Destination America's Monsters and Mysteries in America: Texas Terror - Lake Worth Monster, Animal Planet's Finding Bigfoot: Return to Boggy Creek and Beast of the Bayou.