Posted by: Craig Woolheater on July 31st, 2015
An update to the original story, Scranton Police Officer Claims Encounter with Big Foot in McDade Park "Exclusive Picture", posted here on Cryptomundo two days ago.
Hat tip to Cryptomundian zigoapex for this update.
Dominican Man Says "I was Attacked by Bigfoot in Mcdade Park"
A Dominican man with the name of Jose Ruiz resident of Scranton Pennsylvania is claiming that he was attacked by "The Bigfoot of McDade Park" in Scranton and has pictures to prove it.
Email From Jose Ruiz:
"HELLO I READ YOUR STORY ABOUT THE SCRANTON COP THAT SAW A BIGFOOT IN MC DADE PARK AND IS TRUE BECA– USE I SAW ONE TOO A FEW NIGHTS AGO ME AND MY FRIENDS DECIDED TO GO WALK IN THE PARK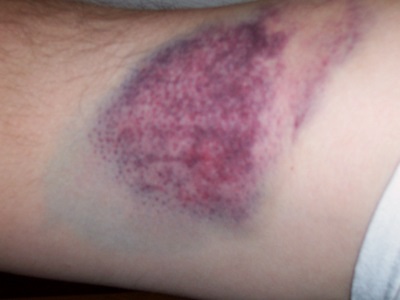 BRUISE FROM BIG FOOT ATTACK
AND WE WENT INSIDE THE PARK AT AROUND 8PM AND THERE IS A TRAIL THAT LEADS TO A SMALL TUNNEL WHEN WE WENT NEAR THE LITTLE RIVER THATS COMES OUT THE TUNNEL OR CRECK WE HEARD A NOISE WOHOOO WOHOO SO I WAS LIKE WTF IS THAT MY FRIEND WAS LIKE "CARAJO CONO QUE ES ESO" ALL THE SUDDEN THIS BIG CREATURE CAME OUT AND ATTACKED ME MY FRIEND TOOK OFF I TOOK A STICK AND WHEN I WAS ABOUT TO HIT THE CREATURE HE TOOK OFF TOWARDS THE TUNNEL I RAN OUT AND I WAS LIKE I AM NEVER GOING BACK TO THAT PARK AT NIGHT ME AND MY FRIEND TILL THIS DAY WE ARE SO FUCKING CONF– USE THAT REALLY I KNOW THERE IS SOMETHING IN THAT PARK AND I KNOW OF A FRIEND THAT TOLD ME THAT LATELY PEOPLE WHO GO TO RUN ARE HEARING WEIRD NOISES"
Update: The Paranormal Research Group is going to be investigating this case by going to McDade Park at night searching for the "Bigfoot of McDade Park".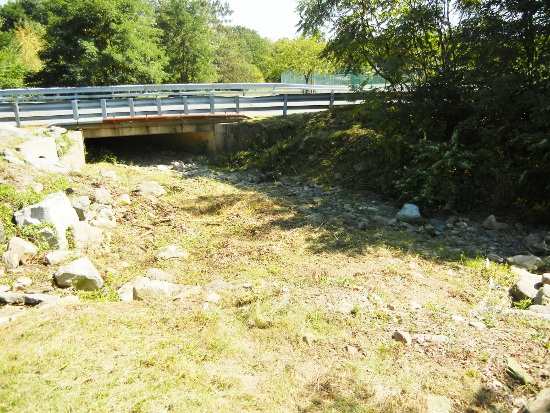 THE BRIDGE AREA WHERE BIG FOOT CAME FROM IN MC DADE PARK
Source: NYC Daily News
See also: Scranton Police Officer Claims Encounter with Big Foot in McDade Park "Exclusive Picture"
#McDadeParkBigfoot #BigfootofMcDadePark
About Craig Woolheater
Co-founder of Cryptomundo in 2005. I have appeared in or contributed to the following TV programs, documentaries and films: OLN's Mysterious Encounters: "Caddo Critter", Southern Fried Bigfoot, Travel Channel's Weird Travels: "Bigfoot", History Channel's MonsterQuest: "Swamp Stalker", The Wild Man of the Navidad, Destination America's Monsters and Mysteries in America: Texas Terror - Lake Worth Monster, Animal Planet's Finding Bigfoot: Return to Boggy Creek and Beast of the Bayou.