Posted by: Sharon Lee on September 14th, 2012
I wanted to tell you that I have two new Bigfoot sculpture busts available. I have one I sculpted more like the classic Patterson Bigfoot and the other is like a Gigantopithecus as you would see in most recreations with my own twist on it.Jason Shanaman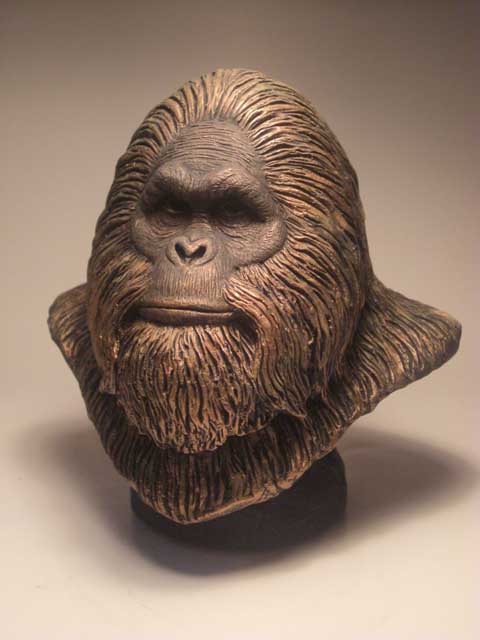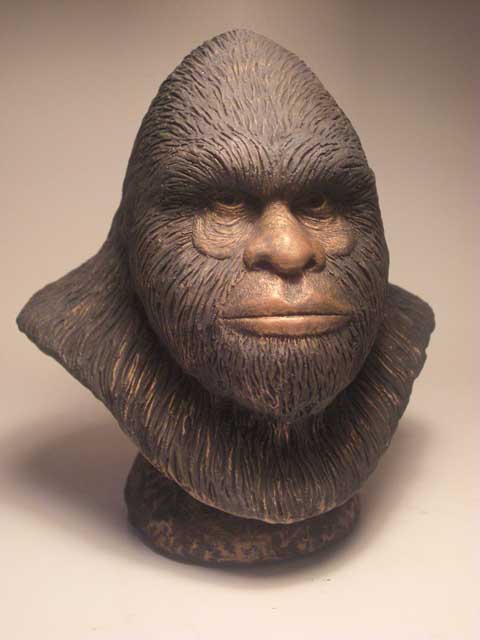 These magnificent works of art are originally sculpted in clay and then cast in hydrostone and then hand painted in a bronze tone finish. They are both about 7 3/4 inches tall. They can be purchased for $60 each or two for $100.
Jason's Bio
~I began sculpting in 2002 after a long layoff of art of any kind. I had always been interested in art since a child. My biggest interest was always drawing. For some time I thought of art as a possible career while in high school but never really had the passion for art to take it to the next level at that time.
However in 2002 I was exposed to some sculptures of lizards which I was really fascinated with, being that I loved art and lizards it sparked an interest in me to try and sculpt some myself. Up until that time I had never tried sculpting but something inside me said that I can do this and I can do it better than I can drawing. After experimenting with the wrong clays for a few months I found the right materials and have never looked back since. I had finally found the medium for my expression.
I choose to specialize in great apes and lizards because they are my favorite animals although I love all kinds dogs, birds and cats included, but more importantly apes and lizard are really not represented regularly in the art world and I feel that they deserve to be. More importantly the great apes are in such danger of going extinct that I hope on some small level to generate awareness of their dire situation as of now. Most of my work benefits Orangutan, Gorilla or chimpanzee organizations either through donations from sales, custom sculptures or donated sculptures for benefit auctions.
My most current work that I am working on now hopes to show the faces of apes in particular. What I want people to see is that they are individuals. They feel and think very much just like we do. They are highly intelligent beings who deserve our respect and deserve to live free from hunting, collection and deserve to have their habitats preserved. Essentially in my eyes they are people. They may not look like us but they share 97 to 99 percent of our DNA. We all need to to do what we can to save them.~
To purchase one of these fine creations you can email Jason at:
Jason's Email
Visit his website at: www.jasonshanaman.com
About Sharon Lee
The Bigfoot Field Reporter's Mission is To promote and share research, information and events regarding the existence of the unlisted humanoid species known as Sasquatch or Bigfoot;and to help further education and understanding to the public regarding the species, throughout the United States of America.