Posted by: Lyle Blackburn on March 11th, 2015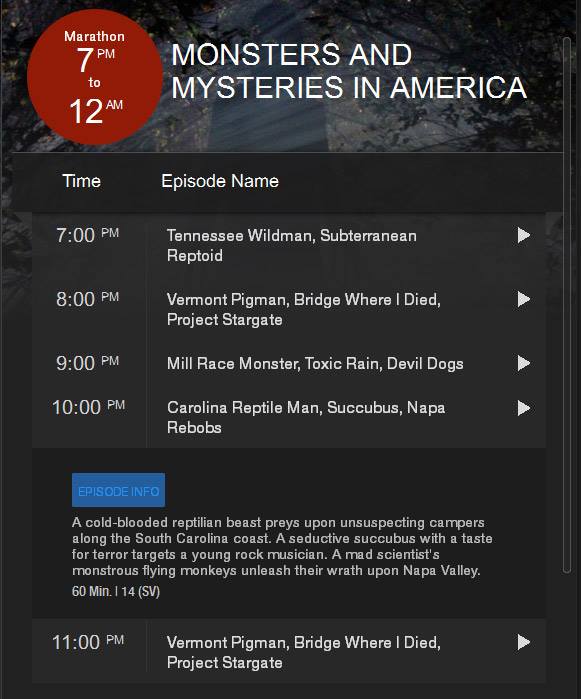 New episode of Monsters and Mysteries in America tonight on the Destination America channel. This should be a good one. I'm commenting about some flying monkey creatures called "Rebobs." (Can't wait to see that recreation!) And also I believe I'll be in the Carolina Reptile Man segment. MMA marathon from 7pm to midnight EST with the new episode on at 10pm EST.
Monsters and Mysteries in America: Carolina Reptile Man, Succubus, Napa Rebobs
Premieres Wednesday, March 11 at 10/9c on Destination America.
Also airs:
Wednesday, March 12 at 12:00 AM Central
A cold-blooded reptilian beast preys upon unsuspecting campers along the South Carolina coast. A seductive succubus with a taste for terror targets a young rock musician. A mad scientist's monstrous flying monkeys unleash their wrath upon Napa Valley.
See also:
Monsters and Mysteries in America: All-New Season
Monsters and Mysteries in America: Season 3 Premieres This Saturday
#monstersandmysteries #desintationamerica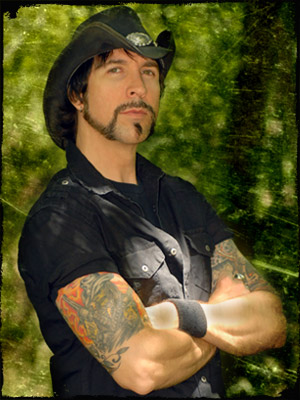 About Lyle Blackburn
Lyle Blackburn's research and writing on the subject of legendary creatures and unexplained phenomenon has been widely recognized as some of the best in the field of cryptozoology. His previous books, including The Beast of Boggy Creek and Momo: The Strange Case of the Missouri Monster, offer a balanced view of the subjects while delivering gripping accounts of real-life mysteries. Lyle is a frequent guest on radio programs such as Coast To Coast AM, and has appeared on television shows such as Monsters and Mysteries in America, Finding Bigfoot, and Strange Evidence. Lyle has also been featured in several award-winning documentary films, including Boggy Creek Monster and The Mothman of Point Pleasant. For more information, visit Lyle's website at: www.lyleblackburn.com