Posted by: Nick Redfern on June 17th, 2014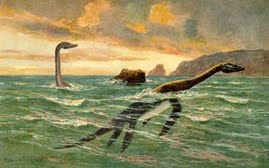 "A couple of nights ago, I did a 10-minute transatlantic phone interview with a radio show in the UK. It was 1.00 AM here in Dallas, Texas, and 7.00 AM in England. And, as is generally the case when it comes to breakfast-time radio, they wanted to keep things bright, short, light and breezy, which was fine with me. The subject: the creatures of Loch Ness.
"When the Wiltshire-based host asked me to comment on the theory that the Nessies are plesiosaurs, I replied it was complete nonsense. For a second or so, there was a noticeable silence…"
That's how my latest Mysterious Universe article starts…

About Nick Redfern
Punk music fan, Tennents Super and Carlsberg Special Brew beer fan, horror film fan, chocolate fan, like to wear black clothes, like to stay up late. Work as a writer.