Posted by: Nick Redfern on November 2nd, 2012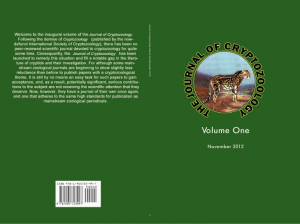 Dr. Karl Shuker breaks great news: "Less than nine months after officially announcing on ShukerNature its founding, I am delighted to announce that the inaugural volume of the Journal of Cryptozoology – currently the world's only peer-reviewed, scientific journal devoted to mystery animals – is now in print."
Indeed it is, and you can find the details right here!
And as the publisher, Jon Downes, of the Center for Fortean Zoology, notes:
"The Journal of Cryptozoology is published and funded by CFZ Press, which is owned by the Centre for Fortean Zoology. However, it is an entity completely separate from the CFZ and entirely independent of it. We have long been aware of the need for a peer-reviewed academic journal covering cryptozoology, and we feel that it is important that it is truly international in scope and independent of any pre-existing organisation or pressure group.
"We think that this is a very exciting new venture, and are immensely proud to be involved as its publishers. We are sad to see that other publishing ventures have folded for lack of funding, and so CFZ Publishing Group will guarantee to maintain funding of this project for at least the first ten volumes, regardless of sales, subscriber figures, or other outside factors."

About Nick Redfern
Punk music fan, Tennents Super and Carlsberg Special Brew beer fan, horror film fan, chocolate fan, like to wear black clothes, like to stay up late. Work as a writer.