Posted by: Karl Shuker on September 6th, 2014
With an area of more than 340,000 square miles, New Guinea is second only to Greenland as the largest island in the world (Australia is bigger than both but is officially deemed an island continent, rather than a mere island). Throughout its length and breadth, however, are dense and often little-explored rainforests where various surprising new species of animal have been revealed in recent years – and also where several more may still await discovery, judging from reports on file of certain bizarre beasts that cannot be satisfactorily reconciled by science with any species known to exist here.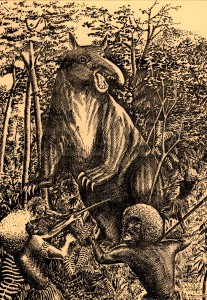 (c) Marc Dupont
The history of what must surely be among the most intriguing of these varied New Guinea cryptids – the spectacular and sometimes terrifying devil-pig – began in a distinctly prosaic, unromantic manner, via the finding of an unexpected pile of dung. In 1875, the eminent English scientific journal Nature carried a couple of letters from Alfred O. Walker concerning the recent discovery by Lieutenant Sidney Smith and Captain Moresby from H.M.S. Basilisk of a startlingly large heap of fresh dung in a forest while surveying on PNG's north coast, between Huon Bay and Cape Basilisk. Indeed, the pile of excrement in question was so big and its overall appearance was such that the men assumed it to have been left by some form of rhinoceros. Yet there is no known species of rhino native to New Guinea – so what kind of creature was responsible for it?
Further details can be found here on my ShukerNature blog.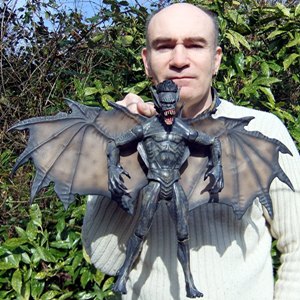 About Karl Shuker
My name is Dr Karl P.N. Shuker. I am a zoologist (BSc & PhD), media consultant, and the author of 25 books and hundreds of articles, specialising in cryptozoology and animal mythology. I have a BSc (Honours) degree in pure zoology from the University of Leeds (U.K.), and a PhD in zoology and comparative physiology from the University of Birmingham (U.K.). I have acted jointly as consultant and major contributor to three multi-author volumes on cryptozoology and other mysterious phenomena. I am the Life Sciences Consultant to The Guinness Book of Records/Guinness World Records (Guinness: London, 1997-present day), and was consultant to Monsters (Lorenz Books: London, 2001), as well as a contributor to Mysteries of the Deep (Llewellyn: St Paul, 1998), Guinness Amazing Future (Guinness: London, 1999), The Earth (Channel 4 Books: London, 2000), and Chambers Dictionary of the Unexplained (Chambers: London, 2007). I appear regularly on television & radio, was a consultant for the Discovery TV series Into the Unknown, and a question setter for the BBC's quiz show Mastermind. I am a Scientific Fellow of the Zoological Society of London, a Fellow of the Royal Entomological Society, a Member of the Society of Authors, and the Cryptozoology Consultant for the Centre for Fortean Zoology (CFZ). I have written articles for numerous publications, including Fortean Times, The X Factor, Paranormal Magazine, FATE, Strange Magazine, Prediction, Beyond, Uri Geller's Encounters, Phenomena, Alien Encounters, Wild About Animals, All About Cats, All About Dogs, Cat World, etc. In 2005, I was honoured by the naming of a new species of loriciferan invertebrate after me - Pliciloricus shukeri.