Posted by: Karl Shuker on February 1st, 2015
European and Middle Eastern medieval mythology is populated not only by such famous examples of fabulous beasts as the dragon, griffin, basilisk, centaur, unicorn, and minotaur, but also by many lesser-known yet no less fascinating fauna, including a small furry mystery beast called the mimick dog.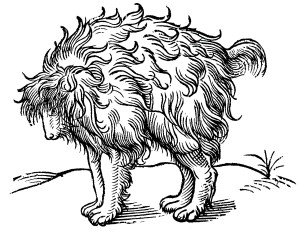 The reason for its name is that the mimick dog is supposedly capable of imitating anything that it sees, leading some observers to assume that it must have been conceived by a monkey (which were often termed apes in these bestiaries but were clearly monkeys rather than anthropoids). Moreover, it supposedly resembles a monkey in both wit and disposition, but differs markedly in morphology. Its face is described as being sharp and black like a hedgehog's, with a short recurved body, very long legs, shaggy fur, and a short tail. It is sometimes reared with monkeys, and while doing so it learns to perform all manner of very pleasing and unusual feats. During the time of the Graeco-Egyptian writer-scientist Ptolemy (90-c.168 AD), there were apparently plenty of mimick dogs in Egypt. According to his documentation of them in his scientific treatise Geography, they had been taught to leap, play, and dance when music was played, and they even functioned as servants in the homes of many poor people, where they performed a wide range of tasks for their masters. And yet in spite of their popularity and abilities, there are no mimick dogs in existence today. So just what WAS the mimick dog?
Further details can be found here on my ShukerNature blog.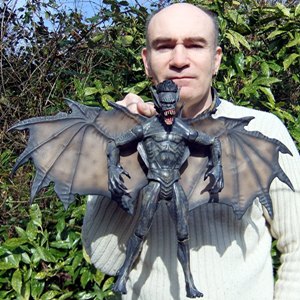 About Karl Shuker
My name is Dr Karl P.N. Shuker. I am a zoologist (BSc & PhD), media consultant, and the author of 25 books and hundreds of articles, specialising in cryptozoology and animal mythology. I have a BSc (Honours) degree in pure zoology from the University of Leeds (U.K.), and a PhD in zoology and comparative physiology from the University of Birmingham (U.K.). I have acted jointly as consultant and major contributor to three multi-author volumes on cryptozoology and other mysterious phenomena. I am the Life Sciences Consultant to The Guinness Book of Records/Guinness World Records (Guinness: London, 1997-present day), and was consultant to Monsters (Lorenz Books: London, 2001), as well as a contributor to Mysteries of the Deep (Llewellyn: St Paul, 1998), Guinness Amazing Future (Guinness: London, 1999), The Earth (Channel 4 Books: London, 2000), and Chambers Dictionary of the Unexplained (Chambers: London, 2007). I appear regularly on television & radio, was a consultant for the Discovery TV series Into the Unknown, and a question setter for the BBC's quiz show Mastermind. I am a Scientific Fellow of the Zoological Society of London, a Fellow of the Royal Entomological Society, a Member of the Society of Authors, and the Cryptozoology Consultant for the Centre for Fortean Zoology (CFZ). I have written articles for numerous publications, including Fortean Times, The X Factor, Paranormal Magazine, FATE, Strange Magazine, Prediction, Beyond, Uri Geller's Encounters, Phenomena, Alien Encounters, Wild About Animals, All About Cats, All About Dogs, Cat World, etc. In 2005, I was honoured by the naming of a new species of loriciferan invertebrate after me - Pliciloricus shukeri.