Posted by: Lyle Blackburn on June 11th, 2013
Sunday night I had the chance to attend a screening of Bobcat Goldthwait's new movie, Willow Creek, along with Craig Woolheater, Nick Redfern, Sean Whitley, and several other friends. Goldthwait, of course, is best known as a comedian and actor, but he is also a seasoned director with Willow Creek being his fourth film. I was excited, not only because we would have a chance to visit with Bobcat, but also because Willow Creek is a "bigfoot horror movie." As a bigfoot researcher and a fan of horror movies, what could be better than a movie that combines the two elements? Especially if it adds historical perspective and real-life settings in the areas of Willow Creek, California, and specifically Bluff Creek where Roger Patterson and Bob Gimlin shot their famous bigfoot film.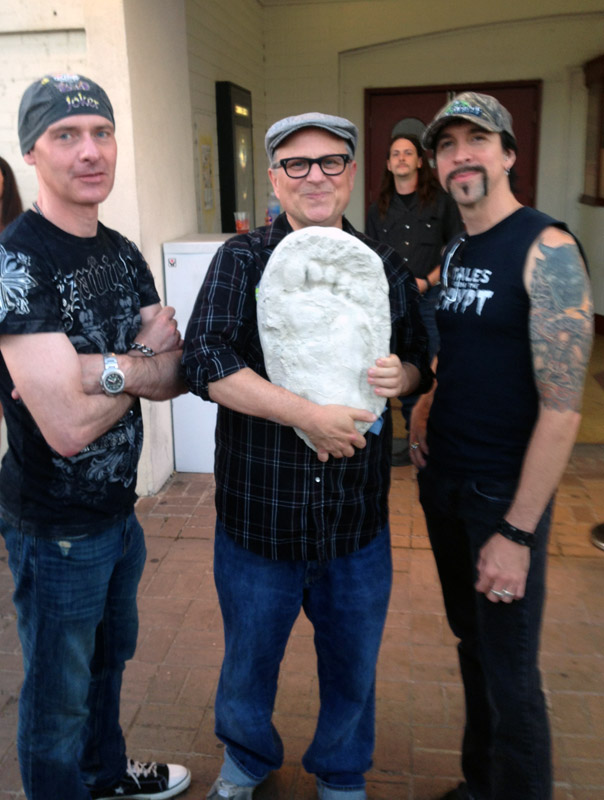 Willow Creek is basically a found-footage style horror flick in which two adventurous twenty-something characters (Jim and his girlfriend Kelly) attempt to retrace Patterson and Gimlin's route along Bluff Creek, hoping to find some evidence of bigfoot themselves. The pair take a drive up Highway 299 to Willow Creek – where they visit some famous sites and interview a few witnesses – before eventually camping out near Bluff Creek. Without giving too much away, I will simply say that their experience in the woods is downright frightening.
Going into the screening I really didn't know what to expect. I knew Bobcat had produced, directed, and written some notable films in the past, but what did he know about bigfoot… or horror films? The answer is: enough to make a kick ass movie! Bobcat, as it turns out, holds a true fascination for bigfoot and he has the skills and innovation to hold his own with any independent horror film maker out there. I had some reservations about the "found footage" style as well, but rest assured this is no shaky or annoying fight with camera angles. Willow Creek is funny, suspenseful, scary, and altogether entertaining – something that is sorely lacking in most "bigfoot" films. In fact, I dare say Willow Creek is the best bigfoot film I've ever seen, save The Legend of Boggy Creek. (You knew I'd say that, right?). Willow Creek is a movie that I've been waiting patiently for. An entertaining film that shares my love of all things bigfoot, my love of horror films, and my desired to see more sasquatch cinema made by professionals in the industry. It is also a movie with an ending that gave me some real chills; something that doesn't happen very often.

About Lyle Blackburn
Lyle Blackburn is an author, musician, and cryptid researcher from Texas. His investigative cryptozoology books, such as "The Beast of Boggy Creek," "Beyond Boggy Creek," and "Lizard Man," reflect his life-long fascination with legends and sighting reports of unknown creatures. During his research, Lyle has often explored the remote reaches of the southern U.S. in search of shadowy beasts said to inhabit the dense backwoods and swamplands of these areas. Lyle has been heard on numerous radio programs, including Coast To Coast AM, and has appeared on television shows such as Monsters and Mysteries in America and Finding Bigfoot. Lyle is also a writer for the monthly horror magazine, Rue Morgue, and was recently featured in the documentary film, Boggy Creek Monster. For more information, visit Lyle's website at: www.lyleblackburn.com