Posted by: Craig Woolheater on March 19th, 2015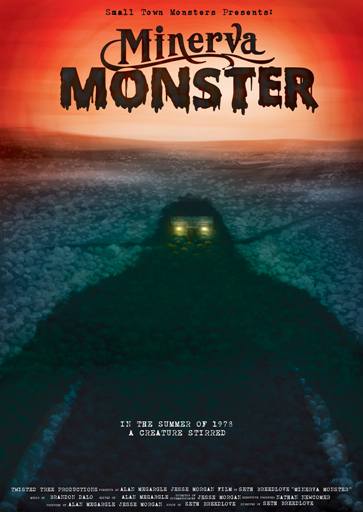 The Minerva Monster has been at the heart of local folklore in the small town of Minerva, Ohio since the late 1970s.
After many months of research and countless interviews, Wadsworth resident Seth Breedlove and the film crew he has been working with are putting the finishing touches on a documentary simply titled "Minerva Monster."
"I'm a writer, so I had originally proposed a book series about a bunch of cases in different small towns," Breedlove said. "I pitched it to three or four publishers and each of them said they had something similar in the works. Then I bumped into a couple of guys who do film and I pitched the idea to them and they were good with it."
Breedlove said he is in the process of editing the film right now and added that it includes interviews from original witnesses and the police chief. Breedlove said it was difficult to get members of the Cayton family to be interviewed. This is the family that first spoke up about seeing the mysterious creature.
"It was difficult to get them involved because I guess their interaction to the town in 1978 was so negative that they have distanced themselves from the story," Breedlove said. "But we did get to talk to Howie Cayton, one of the children who had never done an interview."
Breedlove said that he and his crew plan for "Minerva Monster" to be the first in a series about small town monsters. He said they are already planning a second film about another small town monster in Ohio.
"The whole idea of the series is the way the creature kind of becomes a mascot of the town," he said. "It's also a neat opportunity to look at the history of the town. At the beginning of our first film, the first eight to 10 minutes is a brief history of the town."
When asked if he believes in any of these monsters himself, Breedlove borrowed a line from a sheriff that he interviewed.
"He said that he didn't know that Bigfoot exists, but he does believe the people saw something unexplainable," he said. "It isn't as easy to write off as saying 'Oh, it was just a black bear they saw.'"
Breedlove said that he and his crew wanted to set their documentary apart from other films on the subject of small town monsters.
"We made a conscious effort to step away from that," he said. "There is no narration or crazy re-enactments of people being chased by Bigfoot. We just have people tell the story and then leave it up to the audience."
It is actually the human side of the story that Breedlove finds the most fascinating.
"There is one family at the center of this and it is interesting to see the ridicule these people came under and also the hunters that went on the property trying to kill the monster," he said.
The film is available for pre-order through GrassmanGear.com. It will officially be released on DVD and Blu-Ray at the Ohio Bigfoot Conference May 16 at Salt Fork State Park. Minerva is hosting an event to celebrate the release of the movie June 6 and screenings will take place at the Roxy Theater.
There will also be a presentation at the Wadsworth Public Library June 25 at 6 p.m. where Breedlove will talk about the movie and show a couple of clips.
See also:
Minerva Monster Documentary Kickstarter Launch
Cryptologic Radio Archive: Minerva Monster with Seth Breedlove and Paul Hayes
Did Bigfoot Really Visit Minerva in 1978?
Teaser Trailer for Minerva Monster
Sasquatch Chronicles: Show Notes with Shannon Archive-Seth Breedlove
SasWhat: Small Town Monsters presents Minerva Monster
Small Town Monsters: Minerva Monster
#SmallTownMonsters #MinervaMonster #SasWhat
About Craig Woolheater
Co-founder of Cryptomundo in 2005. I have appeared in or contributed to the following TV programs, documentaries and films: OLN's Mysterious Encounters: "Caddo Critter", Southern Fried Bigfoot, Travel Channel's Weird Travels: "Bigfoot", History Channel's MonsterQuest: "Swamp Stalker", The Wild Man of the Navidad, Destination America's Monsters and Mysteries in America: Texas Terror - Lake Worth Monster, Animal Planet's Finding Bigfoot: Return to Boggy Creek and Beast of the Bayou.