Posted by: Craig Woolheater on October 15th, 2010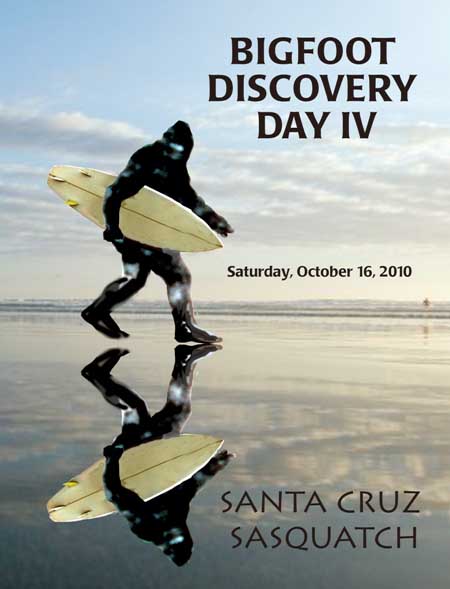 Felton Bigfoot Discovery Museum hosts day dedicated to Bigfoot research, local eyewitness accounts

FELTON — The memory of his encounter with the large, hairy man along the banks of the Eel River in Humboldt County lay dormant for years — but came back in a flash decades later, while he was reading a passage about a similar encounter.

Michael Rugg says he was just a toddler when he wandered off alone on a trail while his parents cooked breakfast at their campsite on the river that early summer morning in 1950.

He passed through some brush and emerged onto a sandbar — and that's when he encountered a bigfoot.

"I looked up into the gaze of a very large man completely covered in bushy dark hair, with nothing on but a rather poorly fitting, torn shirt," he wrote in an e-mail. "I looked at the hairy man, and he looked at me, then my parents started screaming for me, 'Mikey, Mikey, where are you?'"

When he returned to the campsite and told them about the encounter, they reassured him that what he'd seen was likely a homeless man.

He forgot about the incident until about 20 years later, when a passage in a book about bigfoot sightings prompted the flashback — and helped explain his self-described obsession with all things Sasquatch.

The Bigfoot Discovery Museum, which Rugg founded in 2004 following a career as a computer graphic artist and illustrator, will host its fourth annual Bigfoot Discovery Day on Saturday at both the museum and the Louden Nelson Community Center in Santa Cruz.

Activities will include a presentation of evidence — including sound recordings, a large, unidentified tooth and a video clip of an unidentified, bipedal figure — that has been accumulated over the years in communities including Felton, Zayante, Ben Lomond and near the Forest at Nisene Marks in Aptos.

Local eyewitnesses will talk about their encounters for the first time in a public forum, while other presentations will explain research methodologies.

One of the eyewitnesses who may attend the event, Placerville resident Colette Alexander, said she saw a bigfoot near the Pocono trail head about a mile from downtown Santa Cruz along the San Lorenzo River in June 1999. She was eating a sandwich when she looked into the woods, "and this thing was mimicking me eating my sandwich … I slowed down mid-bite, and it mimicked me doing that."

She later studied primates at Cabrillo College, but when she tried to tell her professors about it, "I got shut down pretty hard. They don't condone that kind of stuff."

In 2009, she finally reported the sighting to www.bigfootsightings.org. A full account can be read at (link)

One of the experts expected to attend the event, Bart Cutino, is a longtime researcher with the Bigfoot Field Researchers Organization and Alliance of Independent Bigfoot Researchers. He'll talk about field research he's conducted using thermal imaging devices and recount a sighting near Mount Rainier in Washington state in 2008.

Rugg says it's time people stop discounting the experiences of those who've seen and heard things outside of the norm, and for those who have had those encounters "to stop repressing their experiences."

"I allowed myself to go ahead and believe my own memory … It's time for people to realize that there's a lot of stuff going on out there that current science cannot explain," he said.Kimberly White
Santa Cruz Sentinel
Event details from the Bigfoot Discovery Project website.
Bigfoot Discovery Day IV
Saturday October 16, 2010
11am-4pm BBQ and fellowship at the Bigfoot Discovery Museum
5497 Highway 9, Felton, CA 95018
6pm-9pm Presentations at Louden Nelson Community Center
301 Center St., Santa Cruz CA 95060
The Bigfoot Discovery Museum is hosting the fourth annual Bigfoot Discovery Day on Saturday, October 16, 2010. Museum curator Michael Rugg will present his findings and detail accounts from more than six years of local bigfoot research. A variety of circumstantial evidence has been obtained in the Santa Cruz Mountains including unknown sound recordings, a large, unidentified tooth and a short video clip of a bipedal subject taken near the Forest of Nisene Marks. Local eyewitnesses will give testimonials about their encounters for the first time in a public forum.
The other presentations will explain and demonstrate bigfoot research methodologies:
Bart Cutino will detail field research using the latest thermal imaging devices and recount an extended sighting he had near Mt. Rainier, Washington in August 2008. He will also dispel some of the common misconceptions about bigfoot biology.
Robert Leiterman, a California State Park Ranger at the Humboldt Redwoods, has been conducting a remote camera survey for the past two years. His presentation will explain the latest game-camera technology utilized in bigfoot research.
James "Bobo" Fay will share his field research techniques acquired over the past 20 years. He is a legendary bigfoot investigator in Humboldt County and he has investigated several bigfoot accounts in the Santa Cruz Mountains. He is featured in several well known television series on the bigfoot/sasquatch subject.
Ticket prices:
At the Museum–
Museum is free admission, BBQ lunch is $5-6
At the Evening Presentations–
General Admission Adult $10.00
Museum members, seniors, students $8.00
Children under 12 are free
Special reserved seating (1st 3 rows) add $10
Payment can be made by check payable to "CapriTaurus" and mailed to:
Bigfoot Discovery Museum
CapriTaurus
P.O. Box 153
Felton, CA 95018
Paypal is an option as well, payable to harrybiped@yahoo.com–please add an extra $2.00 to cover the fee
The museum will be open both Friday and Saturday evening to serve as hosts for out of town guests and we'll share information on the most likely haunts of the local bigfoot at this time of year. (We'll point you in the best direction for a possible bigfoot event, should you desire some nocturnal outings while in our neck of the woods) Local recommendations for nearby accommodations include Fern River Cabins, Santa Cruz Redwoods Campground and Cotillion Gardens (all walking distance from the museum). The best place to stay for a bigfoot event would be the remote campsites in Nisene Marks Park, where you might easily hear the cries from the "Olive Springs Howler."(25 minute drive and 6 mile hike uphill… remember to bring your own water)
If you have any questions call 831-335-4478
About Craig Woolheater
Co-founder of Cryptomundo in 2005. I have appeared in or contributed to the following TV programs, documentaries and films: OLN's Mysterious Encounters: "Caddo Critter", Southern Fried Bigfoot, Travel Channel's Weird Travels: "Bigfoot", History Channel's MonsterQuest: "Swamp Stalker", The Wild Man of the Navidad, Destination America's Monsters and Mysteries in America: Texas Terror - Lake Worth Monster, Animal Planet's Finding Bigfoot: Return to Boggy Creek and Beast of the Bayou.