Posted by: Craig Woolheater on March 9th, 2017
Come to San Francisco for three days of classic Bigfoot and Yeti movies with documentaries on both screens in the haunted and historic Balboa Theatre!
Guest Speakers Cliff Barackman, Kathy Strain, John Freitas & Montra L. Freitas, Lex, Samantha and Sara of The Ultimate Female Bigfoot Team, Plus Film-makers Seth Breedlove of Small Town Monsters from Ohio and Craig Flipy from Portland, showing their films and doing a Q & A!
Admission Price is as follows
$35 for Friday Only Pass (includes 2 beers and 2 tacos)
$45 just Saturday Pass
$25 just Sunday Pass
$85 3 day pass with free poster (SAVE $20 and ya still get 2 beers and 2 tacos if you go FRIDAY)
Find tickets here
You will get a wrist band so you go in and out of theatre all day or weekend. ( Many restaurants next to the theatre)
Website coming soon with blocked Motel rooms, restaurant and sight seeing tips!)
Friday's Grand opening night admission includes 2 beers, 2 tacos and live music with Hiroshi Hasagawa's Poontang Wranglers Jug Band!
Vendors will be in the lobby and a Fundraising raffle with be had with much desired prizes!
Drink beer, watch movies and talk Bigfoot with friends and new friends you've yet to met.
~Kai Wada Roath
Host of the Super Shangri-La Show
Website
Facebook
Event schedule
Balboa Theatre
Address: 3630 Balboa St, San Francisco, CA 94121
Phone: (415) 221-8184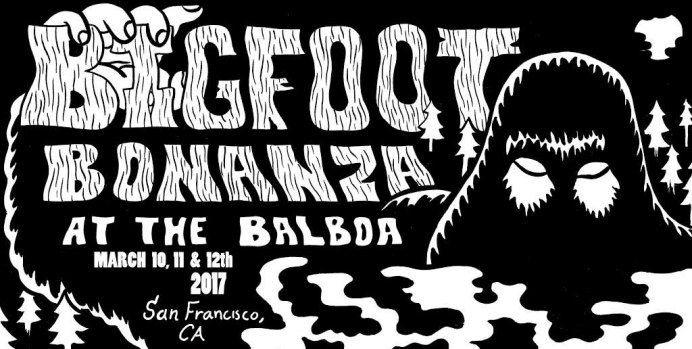 Press release:
Bigfoot Bonanza Three days of cult classic Bigfoot and Yeti flicks, documentaries and guest speakers in the haunted and historic Balboa Theatre.
San Francisco, CA: The Super Shangri-La Show presents the 1st Annual Bigfoot Bonanza on the Barbary Coast on March 10, 11 and 12, 2017. This three day festival will include renowned Bigfoot researchers Cliff Barackman, Kathy Strain and Tom Yamarone, as well as independent filmmakers Craig Flipy and Seth Breedlove. In addition to these live presenters, the weekend will include a smorgasbord of cult classic Bigfoot movies, television shows and documentaries. The Bigfoot Bonanza will kick-off with an Opening Night reception on Friday March 10th, which will include live music from Hiroshi Hasagawa's Poontang Wranglers jug band, gourmet tacos from Tacos Oscar and frosty cold suds from Fort Point Beer Company. All this will take place on both screens of the historic Balboa Theatre in the Outer Richmond of San Francisco.
For people who are into obscure films, giant monsters, drinking beer and talking about cryptozoology, this is for you. "Bigfoot is 102% real and this theatre is totally haunted" ~Sven-Erik Geddes, President of Planet Pimp Records.
More information and a full schedule of the speakers and films can be found at www.bigfootbonanza.com. Tickets can be purchased directly through the Balboa Theatre or (415) 221-8184. We anticipate this event to sell out and are encouraging people to buy their tickets in advance. Support your local monster!
Our generous sponsors include Amoeba Music, Fort Point Beer Company, the Bigfoot Times, the Sasquatch Coffee Company and Confusion Hill.
Kai Wada Roath, the host of the Super Shangri-La Show has been presenting strange and unusual films twice a month at the Balboa theatre since 2015. He also led a month long Yeti expedition in Nepal, searched for Blackbeard the Pirate's treasure and is the official Ambassador of Confusion Hill.
About Craig Woolheater
Co-founder of Cryptomundo in 2005. I have appeared in or contributed to the following TV programs, documentaries and films: OLN's Mysterious Encounters: "Caddo Critter", Southern Fried Bigfoot, Travel Channel's Weird Travels: "Bigfoot", History Channel's MonsterQuest: "Swamp Stalker", The Wild Man of the Navidad, Destination America's Monsters and Mysteries in America: Texas Terror - Lake Worth Monster, Animal Planet's Finding Bigfoot: Return to Boggy Creek and Beast of the Bayou.