Posted by: Craig Woolheater on March 5th, 2014

The Ahousaht men followed tracks to the edge of the forest where there were broken branches and an impression of something large having rested there. Photos supplied.
A young Ahousaht man got the surprise of his life when he was out in his boat on the morning of Feb. 26. During a routine patrol of Ahousaht territories he spotted movement at the tree line. From his boat he saw a creature stand up from a crouched position and retreat deeper into the forest.
According to a relative, who wishes not to be named, the shaken young man called on the VHF radio to see if any villagers would be in that uninhabited area. There were none.
The following morning a small group of men went to the area.
"He took us out there when tide was out yesterday to make sure what he saw was actually there and to make sure that it's gone," said the relative.
The first set of prints they came across appeared to be a set of large feet indicating that the owner of the feet had been seated on a log.
"It was big, about 16 inches from heel to toe and it was 7 to 9 inches wide from big toe to little toe," said the witness.
"I have a size 9 boot and I put my foot beside the print and it was not quite three-quarters of the size of the footprint," he continued.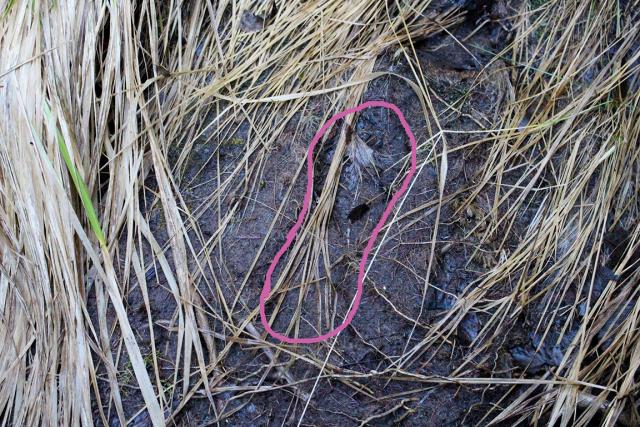 There are many stories both local and worldwide about reported encounters with a creature called Sasquatch, or yeti, or, in Nuu-chah-nulth stories, bookmis. The creature is reported to be a large, hairy, ape-like creature standing up to 10 feet tall and walking on two legs.
While its existence hasn't been proven scientifically, many believe it roams the forests of the Pacific Northwest, and, more locally, Vancouver Island.
The group of men took some photographs then returned to the village to pick up more men who wanted to explore the area.
They say they saw 10 bare footprints in an estimated 30-foot area. The witness estimated each footprint was about three feet apart.
"There were two different sizes," said the witness. The first, smaller one appeared to have been sitting on a log. They followed tracks to the woods where they saw broken branches and impressions in the earth where they figured something large had laid down.
Read the rest of the story here.
About Craig Woolheater
Co-founder of Cryptomundo in 2005. I have appeared in or contributed to the following TV programs, documentaries and films: OLN's Mysterious Encounters: "Caddo Critter", Southern Fried Bigfoot, Travel Channel's Weird Travels: "Bigfoot", History Channel's MonsterQuest: "Swamp Stalker", The Wild Man of the Navidad, Destination America's Monsters and Mysteries in America: Texas Terror - Lake Worth Monster, Animal Planet's Finding Bigfoot: Return to Boggy Creek and Beast of the Bayou.