Posted by: Craig Woolheater on July 2nd, 2014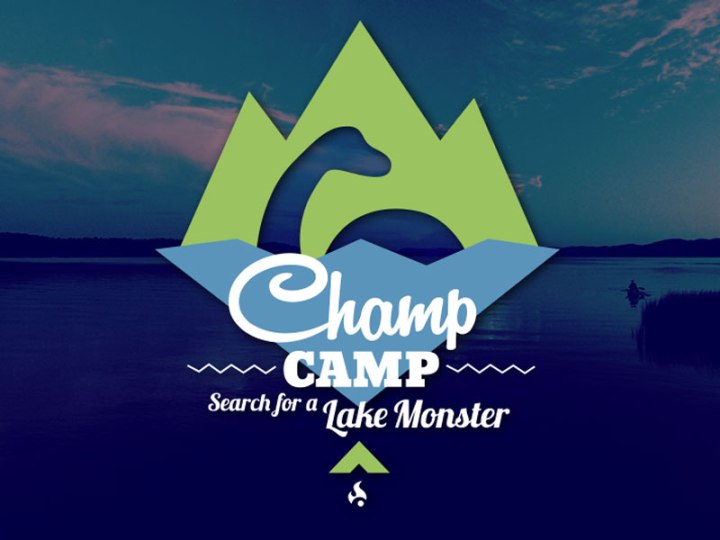 Champ Camp, founded in 2009, was a Believe It Tour event that took place at Button Bay State Park in Vermont. The goal of Champ Camp was to bring awareness to and investigate the possibility of an unknown cryptid that might reside in Lake Champlain. Initially, the fun weekend long event was open to the public and merged research at the lake with nature hikes, classes on the lake's history and ecology, art exploration, and green camping. Cryptomundo was a supporter from the start and took part in the education by presenting at this first event.
Believe It Tour recently changed over to become Brite Yellow, a new organization with an emphasis on education and research. This change has allowed Champ Camp to be restructured from the scope of the original Believe It Tour event. Today, the sole focus of Champ Camp will be to perform scientific work, with a select group of researchers, which will encompass auditory, visual, and environmental monitoring using state of the art technology.
The research being conducted during 2014 will be greatly expanded to include both quantitative and qualitative methods, which will give the research team broader project scope given a limited timeframe. The quantitative research will cover environmental monitoring of the lake and of the immediate area in our research quadrant. The qualitative portion will focus on auditory and visual monitoring of the lake. All research will be conducted according to scientific protocols and operating procedures.
The researchers involved with this project have been hand selected by the founders of Brite Yellow based on their previous research experience and the expertise they bring to this project.
Leading the expedition is Michael Esordi, founder of Believe It Tour and Brite Yellow. He has logged numerous hours over the last 20 years traveling throughout North America, Central America, New Zealand, Eastern Europe, Australia, Southeast Asia, and Western Europe to explore folklore and search for mysterious creatures and legends. Recently, Michael was featured in the Nat Geo show Monster Project, which focused on a Lake Champlain investigation to prove the possible existence of a lake monster.
At the helm of the research is project director Diana Esordi, who will orchestrate the scientific protocols and data gathering. Diana is a classically trained scientist and co-founder of Brite Yellow, who has been involved in the world of cryptozoology for 25 years after having had a mysterious encounter in the Desolation Wilderness in California's Sierra Mountains and has since explored cryptozoology creatures from the Arctic Circle to the jungles of Central America. She has also been a guest lecturer at University of Southern California (USC) Master of Science Regulatory Science program. With a Bachelor of Science degree in Microbiology, an emphasis in Chemistry, and an English minor, Diana has a combination of skills and education that makes her a crucial part of the team.
Another familiar name in the group is Bill Dranginis. Bill brings a wealth of technology knowledge to the team as a surveillance and security expert that has worked with the government for many years. As an engineer and technology developer, Bill is able to create custom equipment for any situation or research endeavor. Including the new underwater recording devices he designed and built for this expedition. Bill is also a well-respected cryptozoology researcher and lecturer with many years devoted to the search for more information about the existence of Bigfoot and lake monsters. His interest in the world of cryptozoology began after an unexplained cryptid encounter he had in Virginia 19 years ago.
The team information specialist is Scott Mardis. Scott is a specialist in paleontology and has been a valuable volunteer contributor to the Vertebrate Paleontology Department of the Philadelphia Academy of Natural Sciences. While working there his primary focus was cataloguing Pleistocene mammals from deposits in Hartman's Cave located in Pennsylvania. He has also been a host of a weekly public access television program called The Haunted Sea and appeared on a 2008 episode of MonsterQuest both of which focused on lake monsters and Lake Champlain. Having lived on Lake Champlain for many years, Scott brings essential information on eyewitness accounts and mapping to the research.
Champ Camp's newest member is Jeff Meuse, who is currently the Assistant Director of the International Cryptozoology Museum, where he has been for the last eight years. When not at the Museum, Jeff is also a pre-service secondary school biology teacher. His interest in the world of cryptology began at a young age when he and his grandfather discovered a report of the Gloucester Sea Serpent in a sea captain's log from the early 1800s. Jeff has traveled throughout North America in his search of mysterious creatures.
For more information on Champ Camp
To help support the research you can order an official Champ Camp, a search for a Lake Monster, t-shirt (Until July 8, 2014). Proceeds will go to additional research equipment.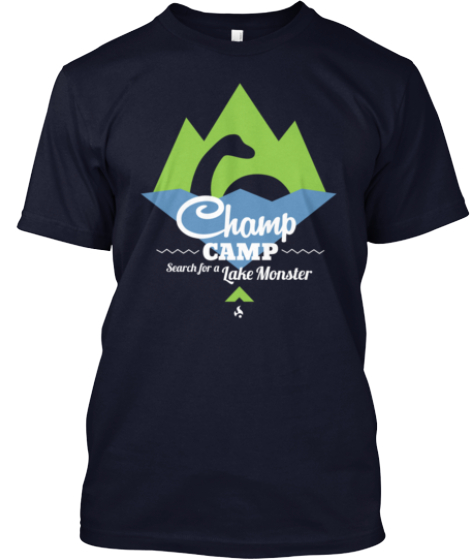 > order your t-shirt or hoodie
About Craig Woolheater
Co-founder of Cryptomundo in 2005. I have appeared in or contributed to the following TV programs, documentaries and films: OLN's Mysterious Encounters: "Caddo Critter", Southern Fried Bigfoot, Travel Channel's Weird Travels: "Bigfoot", History Channel's MonsterQuest: "Swamp Stalker", The Wild Man of the Navidad, Destination America's Monsters and Mysteries in America: Texas Terror - Lake Worth Monster, Animal Planet's Finding Bigfoot: Return to Boggy Creek and Beast of the Bayou.