Posted by: Craig Woolheater on April 23rd, 2013
My father passed away on Friday, April 12, 2012, five days after spending his 74th birthday in the hospital.
He had been diagnosed nearly 3 years earlier with terminal pulmonary fibrosis. Six months later, it was discovered that his house had a bad case of black mold. Unrelated events? I hardly think so…
He was still relatively healthy the week before he was admitted to the hospital in Georgetown, TX on Friday, April 5 with pneumonia, in spite of having only 30% lung capacity and requiring nearly constant oxygen.
In the end, his lungs weren't strong enough to fight off the pneumonia, and given the choice of remaining hospitalized and breathing a concentrated dose of oxygen for an indefinite period of time and extending his life artificially, or being taken off of oxygen and having a morphine drip and fading away peacefully and painlessly, he chose the latter option after seeing all of his children and grandchildren.
I visited with him in the hospital on Monday, April 8, both before and after the event I was hosting in Austin at the Museum of the Weird. I spent the night there, and on Tuesday made peace with him and said goodbye.
I went home and prepared for my trip to Ohio to attend the 25th Annual Ohio Bigfoot Conference that weekend.
On Friday, in Ohio, I received the news that he had passed at 4 PM Central.
As Loren Coleman writes: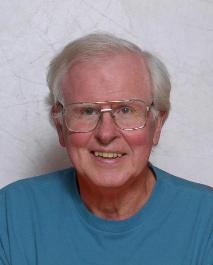 Birthfather of Texas Bigfootery

April 7, 1939 – April 12, 2013

As we all were arriving at the Ohio Bigfoot Conference at the Salt Fork State Park Lodge, we were saddened to hear of the loss of Craig Woolheater's father, Dick.

Craig writes that his father "was a physics professor and thus was skeptical of cryptozoology, although he was open to the existence of Bigfoot, if presented with hard evidence. He supported and attended the Texas Bigfoot Conference from its inception. At a group dinner in San Antonio, after the first of four presentations, during the successful run of the 'Bigfoot in Texas?' Exhibit at the University of Texas San Antonio's Institute of Texan Cultures museum campus, he joked that he 'was the sperm donor that made this all possible,' referring to the Bigfoot group TBRC and the assembled members."

Ironically, Craig Woolheater lost his mother when he also left Texas to come visit the International Cryptozoology Museum in Portland, Maine. His mom passed away on November 15, 2009.Loren Coleman
Dick Woolheater obituary

Richard Milton (Dick) Woolheater, 74, of Georgetown, Texas, formerly of Durant, Oklahoma, and Plano, Texas, passed away on April 12, 2013, in Georgetown. Dick died from complications of Pulmonary Fibrosis.
Dick was born on April 7, 1939, in Fort Worth, Texas to John Robert and Eva Chergosky Woolheater.
On April 13, 1986, he married Jan Haynes Toney in Plano, Texas.
Dick graduated from Arlington State (now the University of Texas at Arlington) in 1963 with a Bachelor of Science in Electrical Engineering. He received a Master of Technology from Southeastern State University, Durant, Oklahoma in 2001. He was a 35 year employee of E-Systems in Garland, Texas, starting with the company as a co-op student in college. He changed careers in 1992 and became a math and science teacher, first at the high school level for seven years and then the college level for four more years. He retired to Sun City in 2003.
In addition to achieving the rank of Life Scout in Boy Scouts, Dick worked at Philmont National Boy Scout Camp alongside his wife Jan, and stepchildren, Sara and Scott, and Scott's wife Denice.
Dick lived in Sun City where he loved being a "snake wrangler" and a member of the Billiards, Nature and Hiking Clubs. Dick was funny, gentle, and supportive. He was an incredibly talented artist and mathematician who could create anything he set his mind to. He especially enjoyed drawing, ceramics, and flint knapping, the art of replicating Native American artifacts from flint. He also was an avid worker of crossword and Sudoku puzzles, working both in ink only. Ever the teacher, Dick was a walking encyclopedia with accurate information to share about birds, lizards, snakes, rocks, and trees and just about anything else you could find in nature. Dick liked nothing better than to work with his hands and to share his love of the outdoors with others.
Dick was preceded in death by his parents, John Robert and Eva Woolheater.
He is survived by his wife Jan; sons, Craig Woolheater, Mansfield, Texas, Kirk Woolheater and wife Karen, Ennis, Texas, Chris Woolheater and wife Malessa, Venus, Texas; stepsons, Brent Rhea, Celina, Texas, and Scott Toney and wife Denice, Littleton, Colorado; stepdaughter, Sara Shinneman and husband John, Plano, Texas; grandchildren, Kassi Woolheater, Kyle Woolheater, Justin Woolheater, Calvin Woolheater, Kelsy Woolheater, Collin Woolheater, Sara Rhea, Hayden Rhea, Iris Toney, Lillian Toney, Lauren Shinneman, and Liam Shinneman; and brother, Robert Woolheater, Midlothian, Texas.
A celebration of Dick's life will be held in early June. Source.
About Craig Woolheater
Co-founder of Cryptomundo in 2005. I have appeared in or contributed to the following TV programs, documentaries and films: OLN's Mysterious Encounters: "Caddo Critter", Southern Fried Bigfoot, Travel Channel's Weird Travels: "Bigfoot", History Channel's MonsterQuest: "Swamp Stalker", The Wild Man of the Navidad, Destination America's Monsters and Mysteries in America: Texas Terror - Lake Worth Monster, Animal Planet's Finding Bigfoot: Return to Boggy Creek and Beast of the Bayou.