Posted by: Craig Woolheater on April 4th, 2014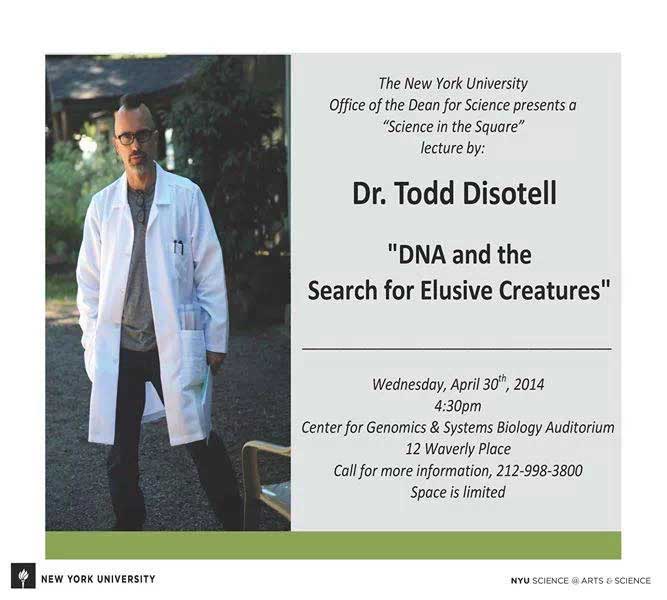 From press release:
Anthropologist Disotell on "DNA and the Search for Elusive Creatures"—April 30 at NYU
April 1, 2014
N-275
New York University anthropologist Todd Disotell, who recently appeared on Spike- TV's "$10 Million Dollar Bigfoot Bounty", will deliver "DNA and the Search for Elusive Creatures," on Wed., April 30, 4:30 p.m. at NYU's Center for Genomics and Systems Biology (CGSB) Auditorium (12 Waverly Place, between Greene and Mercer Streets).
The lecture is part of NYU's "Science on the Square," a series of lectures focusing on scientific topics of interest to the general public and sponsored by NYU's Dean for Science.
Disotell, a biological anthropologist, focuses on primate and human evolution. He runs NYU's Molecular Primatology Laboratory. His research group has contributed to clarifying the primate evolutionary tree, identified new species and subspecies of primates, and has helped to develop new techniques of analysis.
In recent months, Disotell has appeared on both Spike-TV's "10 Million Dollar Bigfoot Bounty" and SyFy's "Joe Rogan Questions Everything"—shows seeking his expertise in testing potential DNA evidence demonstrating the existence of Bigfoot. In his laboratory and in the field, Disotell identifies DNA from a variety of sources—hair, saliva, blood (including that found in biting insects), and feces—in order to identify a range of creatures…real or imagined.
Disotell has received an Early Career Award from the National Science Foundation and two Golden Dozen Teaching Awards from NYU, among other honors. He has a bachelor's degree from Cornell University and a Ph.D. in anthropology from Harvard University.
The lecture is free and open to the public. Seating is on a first-come, first-served basis. For more information, call 212.998.3800. Reporters interested in attending must RSVP to James Devitt, NYU's Office of Public Affairs, at 212.998.6808 or james.devitt@nyu.edu. Subways: N/R [8th Street], 6 [Astor Place].
About Craig Woolheater
Co-founder of Cryptomundo in 2005. I have appeared in or contributed to the following TV programs, documentaries and films: OLN's Mysterious Encounters: "Caddo Critter", Southern Fried Bigfoot, Travel Channel's Weird Travels: "Bigfoot", History Channel's MonsterQuest: "Swamp Stalker", The Wild Man of the Navidad, Destination America's Monsters and Mysteries in America: Texas Terror - Lake Worth Monster, Animal Planet's Finding Bigfoot: Return to Boggy Creek and Beast of the Bayou.