Posted by: Craig Woolheater on February 1st, 2013
Cliff posted his behind the scenes views for the episode of Animal Planet's Finding Bigfoot entitled "Australian Yowie" on his website.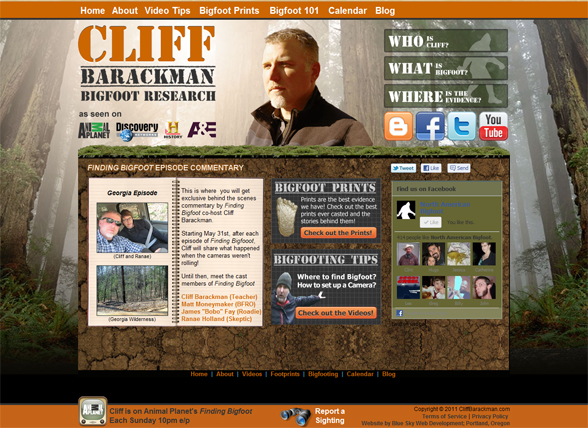 Finding Bigfoot Season Three – Australian Yowie
I remember the entire cast being in a meeting a the New York headquarters of Animal Planet last year and being asked if we'd ever want to go international, and if so, where? We immediately said, "Australia," as if it were the obvious answer. It was the obvious first-choice for our intercontinental excursions looking for bigfoot.
In Australia, they call their giant hairy bigfoot-like creature a "yowie." As it turns out, there is a long history of sightings of not only yowies, but a smaller variety that they refer to as a "brown jack." I was a bit surprised at this, but the consistency of reports clearly indicates the presence of both species. Yowies seem to match the description of the typical North American bigfoot, but brown jacks are smaller, rarely exceeding four feet in height.
We based our trip out of Burleigh Heads on the Gold Coast of Queensland. Even though we were there at the onset of winter, it was a balmy 80 degrees nearly every day on the coast. The ocean water was 70 degrees and made for a refreshing swim before or after shooting each day. I tried to pay much attention to the shark nets that were bobbing just outside of the surf break…
Several things stand out to me from the trip. Gary Opit is a naturalist and cryptozoologist specializing in the fauna of Australia. I have rarely met someone with such an encyclopedic knowledge of plants and animals. He invited us to his rural homestead on the edge of a huge nature preserve where he encountered a yowie several years ago.
Gary shared with us not only his encounter with a yowie that appeared in the show, but also told us about seeing something similar a number of years ago in Papua New Guinea. He described to us a hair-covered figure approximately seven feet tall quickly moving across a road a short distance away from where Gary was standing at the time. Gary also shared with us that he had found what he thinks are brown jack footprints in the nature preserve near his home, and has seen a couple other cryptozoological species that are not supposed to exist. While hanging out with Gary, I was continually stunned by his keen observational skills and knowledge of everything around, so I am sure that what Gary saw is exactly what he claims.
Our expedition wouldn't have been half as successful without the help of the local Aboriginal people. Through a chance encounter on the North Shore of Oahu last year, Bobo befriended a member of the tribe who lives on Fingal Head in New South Wales. The members of this tribe shared their knowledge of the yowies, brown jacks, and other wildlife in the area so we would know what to expect from this ecosystem.
All of our night investigations were strange and wonderful for me. Being so utterly out of my usual context made for a true feeling of adventure. I am not familiar with the sounds and sights of the Australian jungles, so around every turn was something amazing that I had never heard nor seen. Shrill squeaks and cackles of giant bats commonly were heard, along with whistles and tweets of strange night birds. Spiders the size of my hand crawled along the rocks near rivers, and phosphorescent mushrooms grew out of the cut-away sides of the trail guiding our way in the dark.
~ Cliff Barackman
See Cliff's photos and the rest of the report here.
About Craig Woolheater
Co-founder of Cryptomundo in 2005. I have appeared in or contributed to the following TV programs, documentaries and films: OLN's Mysterious Encounters: "Caddo Critter", Southern Fried Bigfoot, Travel Channel's Weird Travels: "Bigfoot", History Channel's MonsterQuest: "Swamp Stalker", The Wild Man of the Navidad, Destination America's Monsters and Mysteries in America: Texas Terror - Lake Worth Monster, Animal Planet's Finding Bigfoot: Return to Boggy Creek and Beast of the Bayou.