Posted by: Craig Woolheater on August 1st, 2018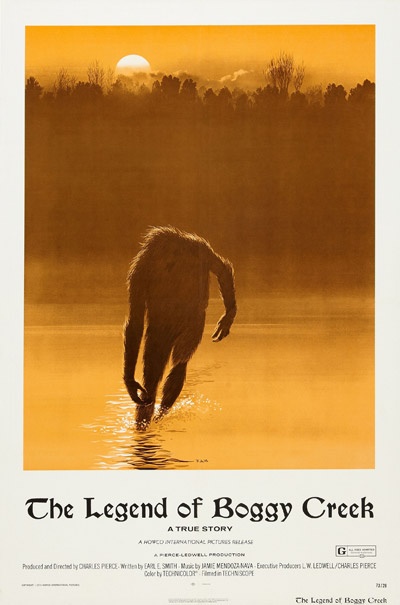 Pamula Pierce Barcelou has gained copyright to one of her father Charles B. Pierce's most beloved films, "The Legend of Boggy Creek," and is having the movie restored for a future re-release, she said.
Shot in the early 1970s in a docudrama style, "The Legend of Boggy Creek" became a cult hit for Pierce, a longtime Texarkana resident who also directed "The Town That Dreaded Sundown" and other independent feature films.
"The Legend of Boggy Creek" chronicles the based-on-real-life encounters between Fouke-area residents and the Fouke Monster—a shaggy, Bigfoot-esque creature said to roam the nearby woods and swampy waterways.
Barcelou said Steve Ledwell of Ledwell & Son assigned her copyright of both "Boggy Creek" and another Pierce film, "Bootleggers." Ledwell's father, L.W., helped finance "The Legend of Boggy Creek," which found success as a low-budget, drive-in creature feature.
"The Legend of Boggy Creek" is being restored at the George Eastman Museum in New York and, for the first time since it was released, the movie will be appear as it did during its theatrical release, unlike bootleg versions out there now, Barcelou said.
"We have a clean, clear beautiful print that is being remastered," Barcelou said, noting various elements have been brought together to make the restored version, including negatives from a Technicolor office in Burbank, Calif.
Barecelou said she aims to release "Boggy Creek" on Blu-ray and also bring it back to movie theaters after working on the sound. She'd like to hold a "Charles B. Pierce-style" premiere at the Perot Theatre.
"We will also be re-releasing theatrically," said Barcelou, noting she's gone back and forth to Rochester, N.Y., where the restoration work is being completed, to see the project's progress. This will make the film look how it was meant to appear, she said, adding that "Boggy Creek" fans have long requested this type of clear version being made available.
"I saw it up on the big screen for the first time in 45 years and it made me cry," Barcelou said, noting the restoration and remastering work will help the colors pop in the swamp scenes, for example.
Kyle Alvut, who manages the digital part of film preservation services for the George Eastman Museum, said they're taking analog elements and turning them into digital content to produce Blu-rays and high-definition copies, basically preparing the movie for that sort of distribution.
"Just like it would be a brand-new movie," Alvut said. They've received a few elements and are sorting through them before deciding the best way to reconform to the original movie. It's the kind of work they do to restore movies made a century ago.
"They're original prints, original negatives she's finding," Alvut said of Barcelou's project to acquire these elements. It's a process of selecting and evaluating, scanning and restoring. What they'll end up with is a digital source master, he said.
Read the rest of the article here.
About Craig Woolheater
Co-founder of Cryptomundo in 2005. I have appeared in or contributed to the following TV programs, documentaries and films: OLN's Mysterious Encounters: "Caddo Critter", Southern Fried Bigfoot, Travel Channel's Weird Travels: "Bigfoot", History Channel's MonsterQuest: "Swamp Stalker", The Wild Man of the Navidad, Destination America's Monsters and Mysteries in America: Texas Terror - Lake Worth Monster, Animal Planet's Finding Bigfoot: Return to Boggy Creek and Beast of the Bayou.