Posted by: Craig Woolheater on October 1st, 2014
The traveling saga of Monsters Underground continues.
Initially set to premiere on Destination America on August 22, only to be taken off the schedule only days before the premiere.
The show then premiered on the Discovery Channel on September 4th but was not on the schedule after the first two episodes, Volcano Cavern Olitiau and Graveyard Gulch Mapinguari, aired.
Now Monsters Underground Moves Back to Destination America and Premieres Friday, October 10th at 10/9c.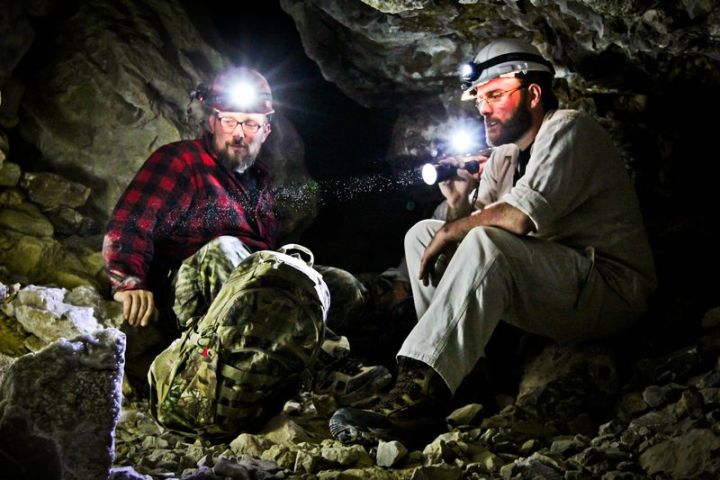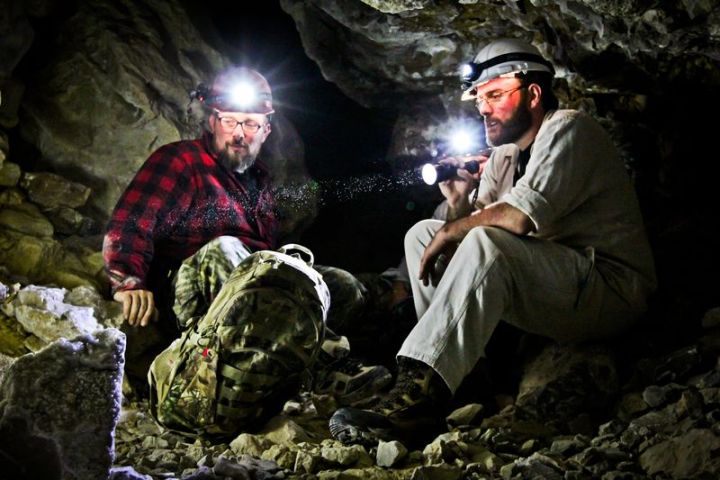 Credit: Destination America
Bill Brock (L) and Casey Onik (R).
From press release:
After debuting its first two episodes on Discovery Channel on September 4, the remaining four episodes of Monsters Underground will premiere on Destination America.
In Monsters Underground, a military survivalist, a trained biologist, a reclusive hunter-tracker, and a hulking pro fighter investigate deadly monsters living in the most inaccessible environments on earth: underground caves, caverns, and mines. There, they seek out legendary creatures that thrive in the cold, damp darkness beneath our feet.
For thousands of years, myth and folklore have warned of beasts that prowl the underworld. Now, Bill Brock, Jeremy Bates, Casey Onik, and Richard McGhee dare to trespass on their realm for the sake of discovering the truth, putting their lives on the line to venture deep under the earth's surface. One wrong move could turn the cave into their tomb. But the most dangerous threat of all is the pitch-black darkness and the risk of coming face to face with a cave creature – such as the shape-shifting Aswang or the bat-like Olitiau – and not seeing it until it's too late.
Shadow Mine Subterralien premieres Friday, October 10th at 10/9c and re-airs Saturday, October 11th at 1/12c
Bill Brock and the team venture into the abandoned Shadow Mine in Calaveras County, California, to hunt the Subterralien, a possibly armed and hostile creature that might be more sophisticated than any they have hunted.
Cross Creek Cavern Draco premieres Friday, October 10th at 10:30/9:30c and re-airs Saturday, October 11th at 1:30/12:30c
The team travels to Northern California where a river cave called Cross Creek Cavern is believed to house a monster known as the Draco, a vicious lizard/human hybrid that lives beneath the surface of the dark waters.
See also:
Bill Brock on Bigfoot Baiting
Destination America: Monsters Underground
Monsters Underground's Bill Brock
CryptoCast Archive: Swamp Monsters and Monsters Underground
#MonstersUnderground
About Craig Woolheater
Co-founder of Cryptomundo in 2005. I have appeared in or contributed to the following TV programs, documentaries and films: OLN's Mysterious Encounters: "Caddo Critter", Southern Fried Bigfoot, Travel Channel's Weird Travels: "Bigfoot", History Channel's MonsterQuest: "Swamp Stalker", The Wild Man of the Navidad, Destination America's Monsters and Mysteries in America: Texas Terror - Lake Worth Monster, Animal Planet's Finding Bigfoot: Return to Boggy Creek and Beast of the Bayou.