Posted by: Craig Woolheater on August 5th, 2014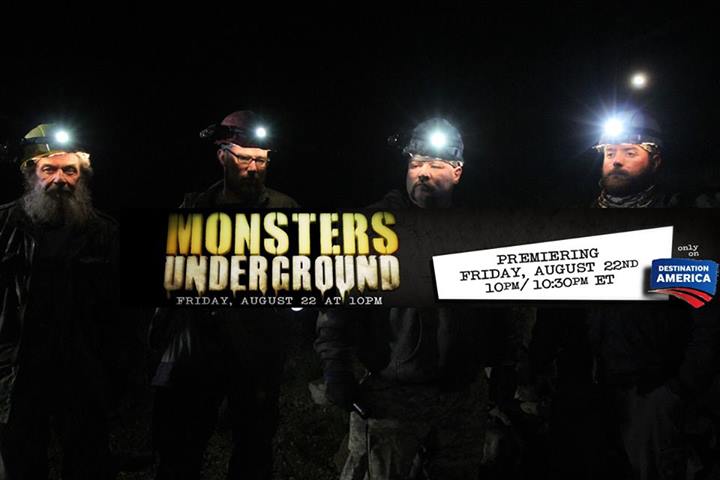 From press release:
Monsters Underground
All-New Series Premieres Friday, August 22 at 10/9c and 10:30/9:30c
Monsters Underground Produced Open from Go Go Luckey Entertainment on Vimeo.
Across the American wilderness, millions of acres of uncharted swamplands and underground lairs are rumored to be inhabited by unidentified monsters. Generations of speculation have piqued the curiosity of nearby communities and monster enthusiasts alike, but none have come close to solving the mystery of what these elusive creatures are… until now. Destination America hunts for the truth in the new three-part series Swamp Monsters, premiering Friday, August 22 at 9/8c, followed by back-to-back premiere episodes of the new six-part series Monsters Underground at 10/9c and 10:30/9:30c.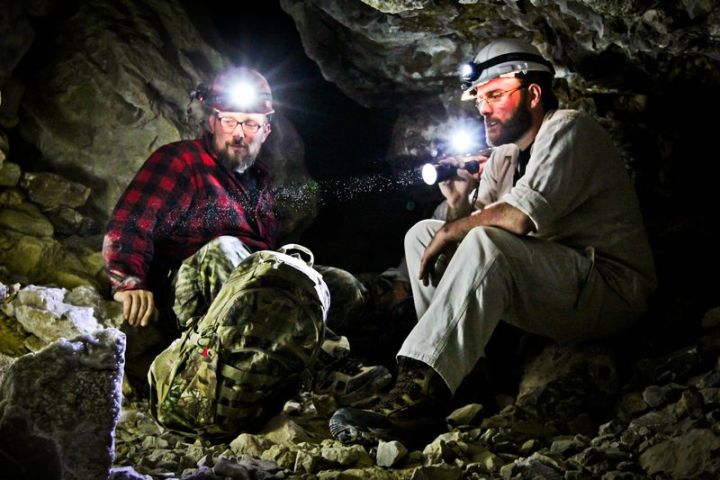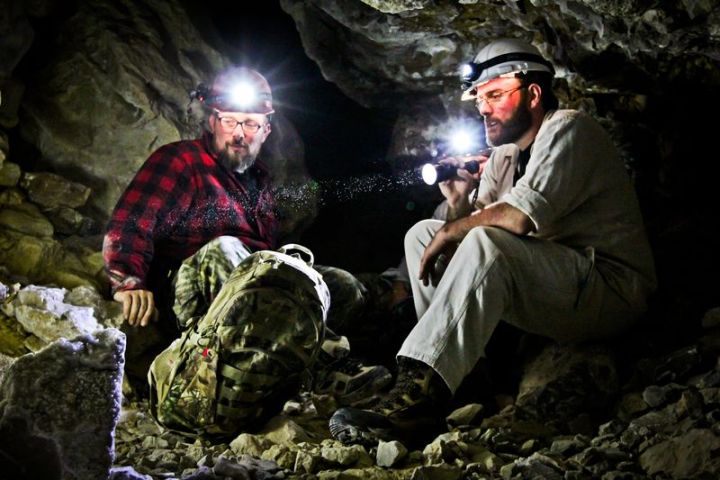 Credit: Destination America
Bill Brock (L) and Casey Onik (R).
In Monsters Underground, Bill Brock and his team are hell-bent on proving the existence of monsters living beneath the earth's surface. During their underground investigations, one wrong move could turn the cave into their tomb. But the most dangerous threat of all is the pitch-black darkness and the risk of coming face to face with a cave creature – such as the shape-shifting Aswang or the bat-like Olitiau – and not seeing it until it's too late.
"America's swamps and caves are inherently terrifying places with real-life dangers like quicksand, gators, disorienting darkness, and claustrophobic passageways with only one way out – not to mention monsters," said Marc Etkind, general manager of Destination America. "These hostile conditions ward off every-day visitors, but the time has come for a few good men to brave the elements and stand up against these Swamp Monsters and Monsters Underground. No one but Elliot, Brock, and their teams of expert trackers, trappers, and hardcore outdoorsmen is better suited to accept the mission."
In Monsters Underground, a military survivalist, a trained biologist, a reclusive hunter-tracker, and a hulking pro fighter are on the case to investigate deadly monsters living in the most inaccessible environments on earth: underground caves, caverns, and mines. There, they seek out legendary creatures that thrive in the cold, damp darkness beneath our feet. For thousands of years, myth and folklore have warned of beasts that prowl the underworld. Now, Bill Brock and his team dare to trespass on their realm for the sake of discovering the truth, putting their lives on the line to venture deep under the earth's surface where natural elements can be as dangerous as the monsters themselves.
Episodes include:
• Volcano Cavern Olitiau premieres Friday, August 22 at 10/9c
In the maze that is Volcano Caverns in Flagstaff, Ariz., Bill Brock and his team believe that a giant, deadly reptilian bat creature known as the Olitiau, or "cave demon" has made this cave its home. One of the attributes of this blood-sucking creature is that it can sense fear in its prey. As the team explores the labyrinth of tunnels, sounds of the creature get closer and closer. The team gathers where they last heard the creature and wait. As a heat signature begins to appear on their thermal camera, their night vision dies, leaving them blind and vulnerable to becoming the Olitiau's next victims.
• Graveyard Gulch Mapinguari premieres Friday, August 22 at 10:30/9:30c
Something has been feeding on Northern California's black bear population, and Bill Brock's team of monster hunters suspects the culprit is the Mapinguari, a descendant of the giant prehistoric sloth. Evidence leads them to Graveyard Gulch, an isolated cave that's treacherous because of what might be living there but also due to extremely narrow passageways and slippery surfaces that lead to deadly drop-offs. Following the stench of the Mapinguari, the team sets their trap deep underground. As they wait in the dark, Brock's thermal camera picks up an image while something unexpected and deadly prepares to strike.
• Remaining episodes feature the Rake (The Grand Canyon – Peach Springs, Ariz.), the Aswang (Apache Death Cave – Two Guns, Ariz.), the Subterralien (Shadow Mine – Calaveras County, Calif.), and the Draco (Cross Creek Cavern – Angels Camp, Calif.).
Monsters Underground is produced by Go Go Luckey Entertainment with Julie Auerbach, Tina Gazzerro Clapp, Henry Capanna, William F. Castonzo, and Douglas Segal as executive producers and Christian Horner as co-executive producer. For Destination America, Caroline Perez is executive producer, Marc Etkind is general manager, and Henry Schleiff is Group President, Investigation Discovery, Destination America, American Heroes Channel and Discovery Fit & Health.
#DestinationAmerica #MonstersUnderground
About Craig Woolheater
Co-founder of Cryptomundo in 2005. I have appeared in or contributed to the following TV programs, documentaries and films: OLN's Mysterious Encounters: "Caddo Critter", Southern Fried Bigfoot, Travel Channel's Weird Travels: "Bigfoot", History Channel's MonsterQuest: "Swamp Stalker", The Wild Man of the Navidad, Destination America's Monsters and Mysteries in America: Texas Terror - Lake Worth Monster, Animal Planet's Finding Bigfoot: Return to Boggy Creek and Beast of the Bayou.