Posted by: Craig Woolheater on February 11th, 2014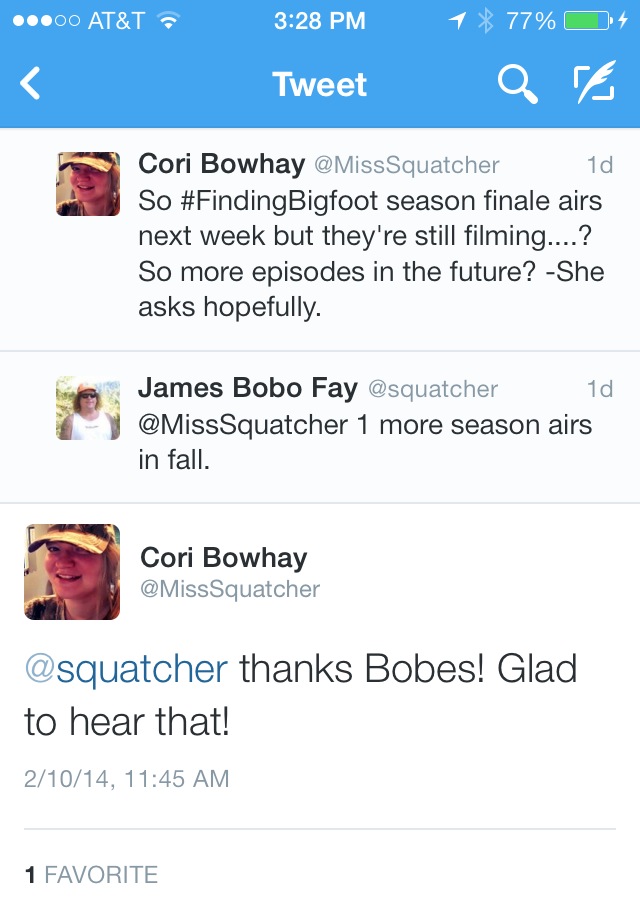 I know they just wrapped filming for next season, what appears to be the last season, to air this fall.
Tyler Bounds has also confirmed this on Facebook:
Almost time to go to the woods for a few days. Gonna make some TV, test out some gear for Backpacker, and enjoy my last days as an outdoor technician and cameraguy for Animal Planet. It's been a pretty cool gig. #6daysleftTyler Bounds
Three and a half weeks ago, I joined the cast and crew in Alexandria, LA to film an episode and recreate my sighting from 1994.
Two motorists experience road encounter in rural Louisiana.
Report is personal experience of Craig Woolheater.
DATE: May 30, 1994
SEASON: Spring
STATE: Louisiana
PARISH: Rapides Parish
NEAREST TOWN: near Alexandria, Louisiana
OBSERVED: My ex-wife (girlfriend at the time) and I were driving back to Dallas from New Orleans. We had started out at 9 pm. I was driving my 1991 Isuzu Amigo, and the top was rolled up because the weather was nice. We had been traveling between 2 1/2 to 3 hours at 75 mph. We were approaching Alexandria. At this point, we were on an unlit 2-lane highway. On both sides of the road, there were wooded, swampy areas 25 to 30 feet from the edge of the road. As we were driving, we saw a figure off to our right in the headlights. We both saw it as we passed and exclaimed simultaneously, "Did you just see what I saw?". We both agreed that we had and I asked her, "What did you think that you saw?". She said, "It looked like a Bigfoot." I wanted to immediately turn around and go back. She did not as we were in an open convertible. There was a friend of ours asleep in the back seat, who slept through the entire incident.
As we passed it, it never seemed to detect our presence. At least that's the way it seemed because it never turned or even flinched as we went by.
We drove for 10-15 minutes until we came to a small church in the country and pulled in to talk about what we had seen. We discussed it for ten minutes or so and got back on the road to Dallas.
DESCRIPTION: We saw the backside of the creature, as it was traveling in the same direction that we were. We estimated its height at 7′. It was covered with hair and in the illumination of my headlights, it appeared to be gray in color. It was walking and it was slumped over in the front.
PHYSICAL EVIDENCE: none.
ODORS: none.
SOUNDS HEARD: none.
TIME AND CONDITIONS: 11:30 pm – midnight.
ENVIRONMENT: Wooded area on both sides of the road, appeared to be swampy.
I told my story at the town hall meeting, was interviewed by Bobo at the location and it was filmed for a reenactment on the show.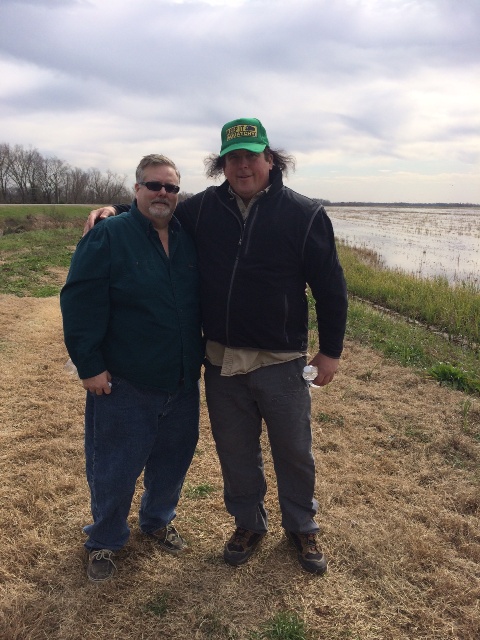 Bobo and I at the encounter location after the interview for my sighting.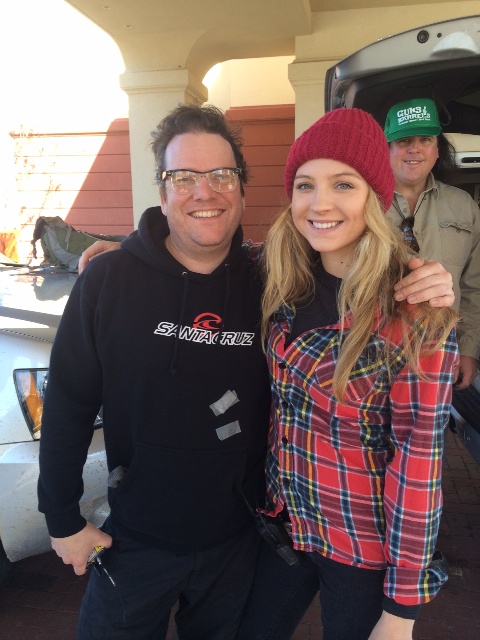 Crew members who stood in for a younger me and my girlfriend.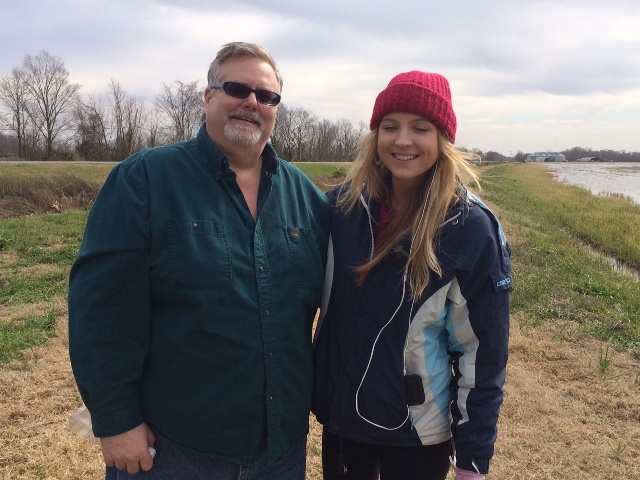 Not my girlfriend, but she plays her on TV.
About Craig Woolheater
Co-founder of Cryptomundo in 2005. I have appeared in or contributed to the following TV programs, documentaries and films: OLN's Mysterious Encounters: "Caddo Critter", Southern Fried Bigfoot, Travel Channel's Weird Travels: "Bigfoot", History Channel's MonsterQuest: "Swamp Stalker", The Wild Man of the Navidad, Destination America's Monsters and Mysteries in America: Texas Terror - Lake Worth Monster, Animal Planet's Finding Bigfoot: Return to Boggy Creek and Beast of the Bayou.