Posted by: Nick Redfern on November 22nd, 2011
Nick Redfern reviews Richard Freeman's book about his expeditions to Sumatra in search of the Orang Pendek.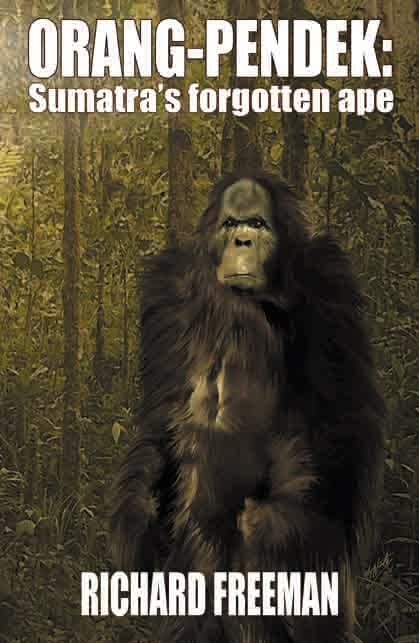 Lair of the Beasts: The Ape-Man of Sumatra
A Monstrous Book
Just published by Britain's CFZ Press is a brand new book from Richard Freeman, of the Center for Fortean Zoology, one of the very few full time groups in the world dedicated to uncovering the truth behind Bigfoot, the Yeti, sea-serpents, the Chupacabra, and much more of a beastly nature.
Over the course of the last few years, Richard has been on a number of expeditions to the island of Sumatra in search of its very own equivalent of Sasquatch: It has become known as the Orang-Pendek.
And, having collected an absolute mass of very impressive reports, credible on the record testimony, numerous stories, and taken hundreds of photographs, Freeman has now gone ahead and published his many and varied findings in his latest book, which is titled: Orang-Pendek: Sumatra's Forgotten Ape.
Richard says of his quest to find the answers behind the legendary mystery: "We are impressed by big things; dinosaurs, whales, rhinos, super-tankers, skyscrapers. Mention mystery apes to the man in the street and he will imagine bipedal hairy giants, 10 feet tall. Indeed most reports of such things speak of massive animals; the Yeti, the Yeren, the Sasquatch, and the Yowie."
He continues: "But for every Bigfoot there is a Littlefoot. Stories of little hairy men are widespread – but none are as famous as Sumatra's Orang-Pendek."
As for the specific nature of the Orang-Pendek, here's what Freeman has to say: "Orang-Pendek means 'short man' in Indonesian. The creature is said to be powerfully built and immensely strong but relatively short at around 4½ to 5ft in height. It walks upright like a man and rarely, if ever, moves on all fours."
And as Richard has come to learn during the course of his various expeditions, the Orang-Pendek is "…generally said to have dark brown or black fur but honey colored or reddish hair has been reported. Sometimes a long mane of hair that falls down to the shoulders is also mentioned. The Orang-Pendek generally seems to be a solitary creature, though there are rare reports of groups of them being seen together."
CFZ Press note of Richard Freeman's Orang-Pendek: Sumatra's Forgotten Ape that: "This book looks at the history of sightings of the Orang-Pendek; similar creatures across the world; has in-depth accounts of the author's four CFZ expeditions in search of the creature; and finally analyses the evidence to produce a cogent theory as to what the elusive short man of the forest might actually be."
The editor and director of the CFZ, Jonathan Downes says of Freeman's work that: "It is a tour de force by Richard Freeman, one of the most popular cryptozoology authors on the planet and the author of Dragons: More than a Myth and The Great Yokai Encyclopaedia – The A-Z of Japanese Monsters.
And if all of that has caught your attention – and you're interested in learning much more about a mysterious ape that isn't Bigfoot or the Abominable Snowman – then I most definitely recommend you get hold of a copy of Freeman's Orang-Pendek: Sumatra's Forgotten Ape at the earliest opportunity.
Written skillfully, and in an entertaining fashion, by someone who knows his way around the island of Sumatra, who has extensively searched for the animal, and who has some amazing stories, data, and witness testimony to share, the book is likely to become one of the most important, new cryptozoological-themed books in a very long time. I don't exaggerate!
Nick Redfern's new book, Keep Out, is published by New Page Books in December.

About Nick Redfern
Punk music fan, Tennents Super and Carlsberg Special Brew beer fan, horror film fan, chocolate fan, like to wear black clothes, like to stay up late. Work as a writer.