Posted by: Craig Woolheater on February 18th, 2013
Today is Presidents Day, a holiday for some.
I wanted to share a tale that was related by President Teddy Roosevelt in his book "The Wilderness Hunter." Available from Amazon.com in print edition or Kindle edition.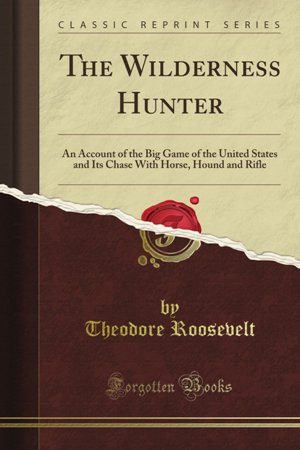 But first, an amazing piece of art, that is available for purchase from the artist, SharpWriter.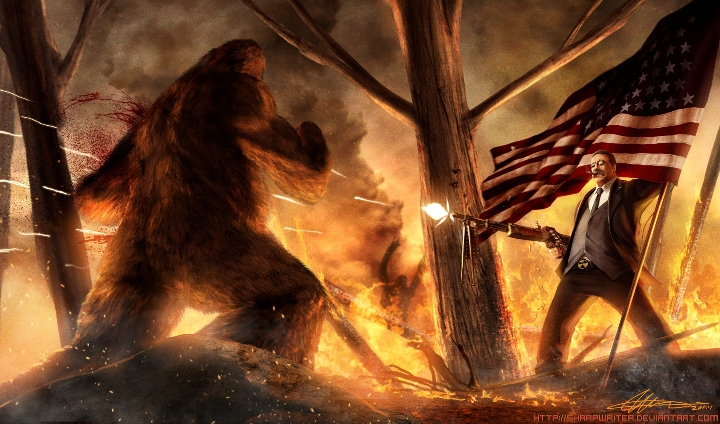 Click image for full size version.
Here is the tale:
Theodore Roosevelt and Bigfoot
Avid hunter and outdoorsman Theodore Roosevelt recorded a possible Bigfoot encounter in his 1893 book "The Wilderness Hunter". It wasn't Theodore Roosevelt himself that encountered the beast, but a fur trapper named Bauman. Despite his outrageous tale, Theodore Roosevelt notes that he felt Bauman really believed the tale he was telling due to the way he shuddered at some points during his story.
The event occurred near the Salmon River in Idaho where Bauman and his partner had decided to move from the place where they were trapping to a very wild and lonely pass in hopes of having better luck there. The two were a bit uneasy about trapping at the pass, however, since they'd heard a report that the half-eaten remains of a hunter had been found there a year before. But they concluded that there was plenty of game to be found there, and set up camp anyway.
After heading upstream and returning to camp later, the trappers were surprised t to find that something had ransacked their camp. Of course they assumed it was a bear and began tidying everything back up. However, Bauman's companion later examined the footprints the supposed bear had left, remarking that the creature had been walking on two legs. They investigated them further, pondering over whether or not the creature had actually been a human. They came to the conclusion that it was not, and tried to go to sleep for the night.
Late that night, Bauman was awakened by a noise and the strong smell of a wild beast. He saw a creature lurking in the shadows and fired at it, causing it to flee back into the woods. They didn't sleep well after the event, but left camp again the next morning to check their traps.
When they returned, their camp had again been destroyed by something. The creature left footprints again, and the men were certain it had to be walking on two legs after examining them once more. That night they heard the creature rustling in the woods surrounding their campsite, and even heard it let out a sinister-sounding, drawn-out moan. However, it never came near the camp (perhaps being wary of the men's fire). After this event, the men decided to leave the next afternoon.
After getting the sensation that they were being followed while they checked their traps for the last time, the uneasy men returned to camp. There were still three traps to go nearby, and Bauman volunteered to go gather them up. When he returned to camp, he didn't see his companion. Instead, he found his still-warm body lying beside a nearby tree. His neck had been broken, and there were four fang marks on the throat. Bauman again spotted the two-legged creature's footprints near the body.
And so ends the tale told to Theodore Roosevelt of a creature that sounds remarkably like a Bigfoot, Skunk Ape, Sasquatch, or whatever you like to call the mysterious bipedal humanoids that might lurk in our forests. So were the men fooled by a bear, or was the creature something still unidentified? We'll likely never know the answer, but it does make for one spooky tale of the dangers to be found in the wild (and it seems that it might have made a Bigfoot believer out of Theodore Roosevelt).
About Craig Woolheater
Co-founder of Cryptomundo in 2005. I have appeared in or contributed to the following TV programs, documentaries and films: OLN's Mysterious Encounters: "Caddo Critter", Southern Fried Bigfoot, Travel Channel's Weird Travels: "Bigfoot", History Channel's MonsterQuest: "Swamp Stalker", The Wild Man of the Navidad, Destination America's Monsters and Mysteries in America: Texas Terror - Lake Worth Monster, Animal Planet's Finding Bigfoot: Return to Boggy Creek and Beast of the Bayou.