Posted by: Craig Woolheater on September 29th, 2011
Bigfoot Researcher and author William Jevning posted the following to his twitter feed a couple of days ago.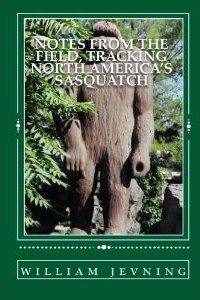 Purchase William's book, Notes From the Field: Tracking North America's sasquatch, at Amazon.com.
Below is the content, in 140 character or less snippets.
If true, these claims of a coverup by USFS officials in Washington state are very interesting…
For those who may be interested in the subject of the Sasquatch (Bigfoot), I wanted to bring something up I was recently talking about.
I was chatting with someone about the possibility of a cover up in regard to this subject, I don't specifically mean a government one
However, I know of two cases in which forest service personnel were involved.
with limited space here, this may take a bit to explain, so for those reading this, please be patient with me.
In 1994, I was contacted by the father of a co-worker. He and a friend of his had been scouting a favorite hunting area prior to the season
this area had been totally blocked to public access for years, they had a vehicle that made it possible to go cross country
This was in the Mt Adams area of Washington state
the roads there are covered with a thick dust, averaging 2 to 3 inches in depth on average, this is a perfect medium for impressions
The two men who were scouting their hunting area came across what they believed to be footprints made by a Sasquatch
They followed the tracks for a very long distance, they estimated there to have been thousands of footprints, which is not unusual
They decided they needed to tell someone about their find, on their way out of the area, they encountered a forest service supervisor.
They related what they had been doing and what they found and where to this individual.
He removed what they estimated a very expensive looking cameras from his truck, and said he was going to document the footprints.
They contacted me a few hours later knowing I was an investigator of the issue. and wanted to take me there immediately.
I agreed, and we left for the site. we traveled the same way they had gone to find the prints and told me the entire story.
we passed a forest service water truck just prior to going cross country in that area, this is the type used to support fire fighting
Once we arrived to the road network inside the blocked off area, we saw that the water truck had been on these roads.
When we got to the location where they found the footprints, we found that the road had been "misted" which is rain like spray
this is one kind of spray these other trucks can do in assisting forest fire fighting efforts
the only place where water had been used, is where the two men said the footprints had been, the water had destroyed them.
when I attempted to locate this supervisor, I was told no such person existed! I found the attitude by forest service personnel
less than honest
I know of one other personal situation similar that I investigated, I will relate this another time
when asked why this issue would be covered up, the answer is simple, financial concerns,
when researching for my book, I did some work with the federal endangered species act
If the worlds largest living hominid were to be proven to exist on the north american continent, ALL logging would stop overnight..literally
The industry and all associated businesses would cease to function for years…I believe this could provide a very credible reason
If such a cover up were being perpetrated…..food for thought
How does this story correlate to this one previously published here on Cryptomundo? Retired US Forest Service Ranger Claims Sasquatch is Real!
About Craig Woolheater
Co-founder of Cryptomundo in 2005. I have appeared in or contributed to the following TV programs, documentaries and films: OLN's Mysterious Encounters: "Caddo Critter", Southern Fried Bigfoot, Travel Channel's Weird Travels: "Bigfoot", History Channel's MonsterQuest: "Swamp Stalker", The Wild Man of the Navidad, Destination America's Monsters and Mysteries in America: Texas Terror - Lake Worth Monster, Animal Planet's Finding Bigfoot: Return to Boggy Creek and Beast of the Bayou.