Posted by: Craig Woolheater on November 5th, 2015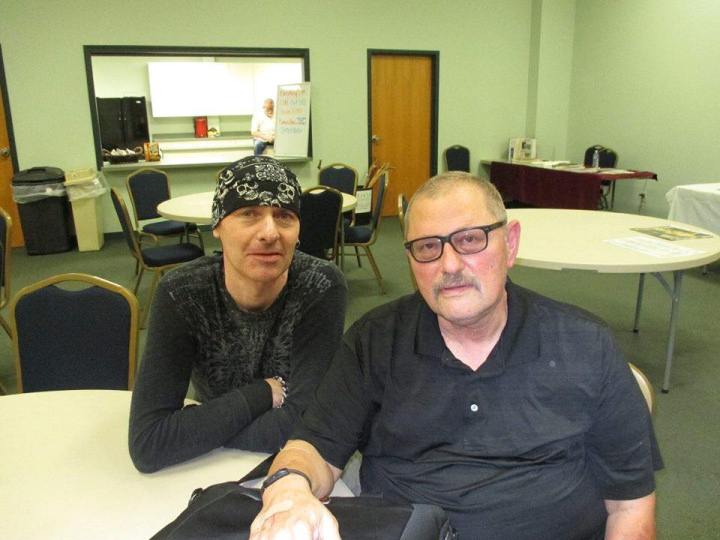 Nick Redfern and Rob Riggs at the 2014 Original Texas Bigfoot Conference in Jefferson, TX. Photo courtesy Nick Redfern
I received word a few hours ago that friend and fellow Bigfooter Rob Riggs passed away a few days ago.
I first met Rob when he spoke at my 2001 Texas Bigfoot Conference. That event was impacted by 9/11, which happened 4 days earlier. Several speakers were unable to fly in for the event, but Rob drove up for the event.
Rob had fallen from the spotlight in later years, but he had a new Bigfoot book out last year and spoke at my 2014 original Texas Bigfoot Conference.
I met up with him in Austin for dinner prior to the conference, and he was very enthused about participating in the event.
His health was an issue, but he felt that he could participate, and he did.
He had many interesting theories about the Big Thicket Wildman (Bigfoot) that he hopefully has the answers to now.
Godspeed Rob!
From Loren's insightful obituary:
Texan Rob Riggs, 70, who wrote a ground-breaking book on Bigfoot and other strange things encountered in the Big Thicket, has passed away.
Rob, who lived in Sour Lake, died on November 3, 2015, at 4:36 PM, in Hospice Austin, Texas. He had recently been admitted there after being cared for some time at his oldest son Jake's home. Rob had been a cancer fighter for the last five years. He had been a vegetarian for over 47 years, and was strong to the end. He passed quietly and peacefully, surrounded by family and friends.
Rob Riggs was born in Texas on September 7, 1945. His first journalism job in 1979 was with the Kountze News in the county seat of Hardin County, near Sour Lake, the tiny southeast Texas town where he grew up. Much of the land between those two towns is now included within the Big Thicket National Preserve, administered by the National Park Service. Rob was raised hearing strange stories from an early age about things seen in those woods. For the last few years, he was a semi-retired veteran managing editor of Texas weekly newspapers.
Read the entire obituary here.
Rob authored the following books:
Bigfoot: Exploring the Myth & Discovering the Truth
Weird Texas: Your Travel Guide to Texas's Local Legends and Best Kept Secrets
In the Big Thicket : On the Trail of the Wild Man : Exploring Nature's Mysterious Dimension
See also:
Reviewing the Original Texas Bigfoot Conference
Anomaly Archives Presents Rob Riggs on Bigfoot
Bigfoot Is Hiding in the Big Thicket
Bigfoot: Exploring the Myth And Discovering The Truth
Riggs, Burnette, Bigfoot
Southern Fried Bigfoot
What, There's No Bigfoot in Texas ?
Wild Man of East Texas and Travel Journalism
About Craig Woolheater
Co-founder of Cryptomundo in 2005. I have appeared in or contributed to the following TV programs, documentaries and films: OLN's Mysterious Encounters: "Caddo Critter", Southern Fried Bigfoot, Travel Channel's Weird Travels: "Bigfoot", History Channel's MonsterQuest: "Swamp Stalker", The Wild Man of the Navidad, Destination America's Monsters and Mysteries in America: Texas Terror - Lake Worth Monster, Animal Planet's Finding Bigfoot: Return to Boggy Creek and Beast of the Bayou.