Posted by: Nick Redfern on July 25th, 2015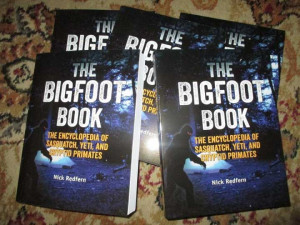 …as well as well known things like "B for Bigfoot," "Y for Yeti" etc, there are a lot of obscure Bigfoot-type creatures listed from Africa, South America, Europe, the Far East, and much more.
Plus, entries on Bigfoot in movies, TV shows, history, legend, and on what Bigfoot might really be, and 120 photos/drawings/paintings.
Also entries on some of the more controversial aspects of Bigfoot, such as the "infra-sound" issue and Bigfoot/UFO theories.
Read: The Bigfoot Book: The Encyclopedia of Sasquatch, Yeti, and Cryptid Primates »
---