Posted by: Monster Island News on November 16th, 2014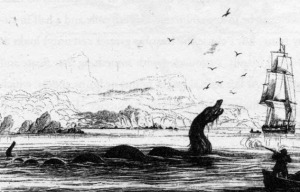 Many of you may be surprised to learn that people have been seeing something that resembles "The Loch Ness Monster" in the San Francisco Bay since the 1800s. Indeed there are hundreds of forms of marine animals and fish that call the area home and, reportedly, some form(s) of aquatic dinosaur(s) may be among their ranks.
For Bill and Bob Clark there is no doubt about it. Since their first encounter with one of these relics from the prehistoric past in 1985 the brothers have seen such creatures several times and cataloged numerous sightings from other eye witnesses.
---