Posted by: Nick Redfern on August 19th, 2012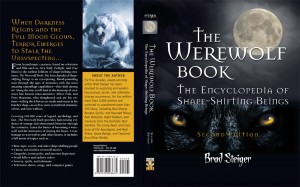 In the September issue of Fortean Times, Brad Steiger's The Werewolf Book gets a good review:
"This is a very professional encyclopredia from one of the field's masters, covering all things shapeshiftery and not just 'men who are hairy on the inside' (as Angela Lansbury's Granny' put it in The Company of Wolves). Steiger draws on material ranging from ancient lore to modern TV and films (and even computer games) reworking classic motifs. This companion volume to the same publisher's Vampire Book offers over 250 entries and makes a handy and entertaining reference."

About Nick Redfern
Punk music fan, Tennents Super and Carlsberg Special Brew beer fan, horror film fan, chocolate fan, like to wear black clothes, like to stay up late. Work as a writer.