Posted by: Craig Woolheater on May 26th, 2015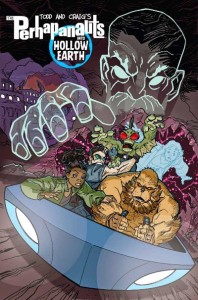 Since 2005, the Perhapanauts team, consisting of such members as a Sasquatch, a chupacabras, and a ghost, to name just a few, have investigated and fought strange creatures that have crossed into our world in a number of comic book miniseries published by Dark Horse Comics and Image Comics respectively. Their adventures have taken them across the planet, to every continent, to the four corners of the Earth. This time, they're going IN.
The Perhapanauts: Into Hollow Earth is a 64-page graphic novel from co-creators Todd Dezago (Impulse, Tellos, Sensational Spider-man) Dezago and Craig (Impulse, Batman Beyond, Iron Man: Armor Wars) Rousseau.
---