Posted by: Craig Woolheater on July 8th, 2013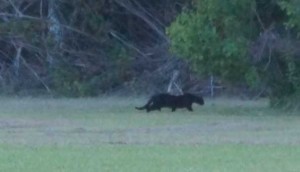 A family 4th of July get together turned into a late night search for a possible black panther. Thursday night, at around 7:30, Karen Fory said her brother-in-law spotted a large black animal in the field behind her friend's home located on Captain Cade Road.
"You could see it from the fence and it was pretty big. So, I came back to the truck and got the binoculars and we were looking at it through the binoculars," she explained.
Cathy Irwin, who lives in the home, said Fory called her over immediately to see what they considered to be a black panther.
Read: Black Panther Seen in Louisiana »
---