Posted by: Craig Woolheater on September 26th, 2014
The Albatwitch Festival is free and open to the public beginning on September 27, 2014 from 9:00 AM to 5:00 PM in the 200 block of Locust Street in downtown Columbia, Pennsylvania. Free lectures through out the day on the unexplained and other mysteries in Pennsylvania. The lectures will be held at the Columbia Historic Preservation Society located at 21 North 2nd Street.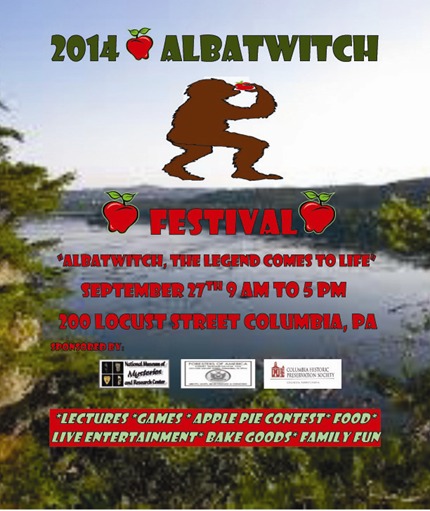 Little Bigfoot: Columbia's first Albatwitch Festival remembers the apple-snatching creature of local lore
A few years back, Rick Fisher saw something along the road he couldn't explain.
Maybe — just maybe — it was an albatwitch.
A what now?
The albatwitch is a local legend that may have come down from the Susquehannock Indians, or it may be rooted in Germanic lore brought to the area by Pennsylvania Dutch immigrants.
It's also the basis for a new music and paranormal festival, which has its inaugural kickoff in Columbia this Saturday.
"It's a celebration," says Chris Vera, president of the Columbia Historic Preservation Society. "We want to do something different. You see car shows, antique shows — this is something that Lancaster County doesn't have."
It borrows on the theme of the Mothman Festival, an annual event in Point Pleasant, West Virginia, tied to its own supernatural entity.
That festival started in 2002 and drew some 500 people the first year. Now, Fisher says, it draws thousands.
"It's fun for everybody," he says. "People enjoy these events."
He and Vera hope the Albatwitch Festival has similar appeal.
The free festival runs from 9 a.m. to 5 p.m. and includes live music, food and lectures on albatwitches and other mythological creatures.
Most activities will be held in the 200 block of Locust Street in downtown Columbia; lectures will be at the Columbia Historic Preservation Society at 21 N. Second St.
"We'll have games for kids, family entertainment," Vera says. "It's not a money-making thing. We want to attract people to the area, people who are interested in these things.
"We're going small this year. But we're going to grow it into something big."
• So, what did Fisher see on that murky night?
It was dark, he recalls. He was driving toward Marietta on Route 23 when, near the Kinderhook Road intersection, he spied a small, hairy creature, maybe 4 or 5 feet tall.
Now, Fisher isn't much of a skeptic. After all, he runs the National Museum of Mysteries & Research Center in Columbia, a site devoted to ghosts, UFOs, Bigfoot and other icons of the paranormal.
But this encounter spooked him.
"I didn't talk about it for months," he says. "I don't know what it was. I didn't think anyone would believe me."
Then he met a man who'd had a similar experience off Pinkerton Road just two years before.
But was it an albatwitch?
It certainly fits the description, although lore about the elusive, apelike creature is vague.
"There's not too much information about it," Fisher says.
What is certain is that there were many reported sightings in the Columbia area over the centuries — usually in the area of Chickies Rock — of a thin, hairy being, somewhere between a monkey and a little Bigfoot, possibly nocturnal, possibly living in trees.
The word "albatwitch" derives from "apple snitch," because of the creature's habit of stealing apples and then pelting trespassers in its woods with the cores.
It should not be confused with the Elbedritsch, which is definitely of German origins and is said to have a goat's horns, a duck's bill and feathers, a rabbit's ears and hide and a squirrel's tail.
Some people believe the albatwitch went extinct in the early 1800s. Others claim to have seen them, still lurking in the woods, in recent years.
"I can't find too many reports of anything like this elsewhere in the country," Fisher says. "There are reports of small, hairy creatures, but nothing exactly like the albatwitch."
Because they love apples, the festival will offer a variety of apple-based foods — apple fritters, apple dumplings, caramel apples — and will include a 1 p.m. apple pie contest, Vera says.
At least two local bands will perform: Two Good Handfuls and Albatwitch, the latter a York-based ensemble that describes itself on Bandcamp.com as "black metal country grind experimental blackened swamp crust folk noise."
Lectures will run throughout the day. Speakers and their topics include: Vera, on the history of the Underground Railroad in Columbia; Fisher, on mysterious creatures in Pennsylvania; John Sabol, on "What Lies Beneath" the ruined town of Centralia; Kathy Kreiter Rothenberger, on elemental beings in mythology and art; and Jonathan Williams, on the forgotten souls of Gettysburg.
A "Ghosts of Columbia" walking tour is set for 7 to 9 p.m. Saturday. Cost for the tour is $15 and, because numbers are limited, reservations are recommended. If enough people sign up, Vera says, they'll add an additional tour Friday.
Reserve tour tickets by calling 341-7574 or 572-7149.
Vera admits that the festival will likely attract people of a peculiar mindset. Already, he says, he's gotten calls from a man in Hellam who says he can communicate with UFOs and a man in York who believes zombies live beneath the town's older buildings.
Besides, he says, the albatwitch legend is alive and well.
Back in the 1980s, Laurel Hill Memorial Gardens, a Columbia cemetery, was closed for two weeks, Vera says. "They wouldn't let anybody in, because a creature was seen there."
When he was a teenager, he adds, he had a friend who claimed to have seen Bigfoot in the area.
"Of course, we all laughed at him," he says. "But who knows, maybe it was something real."
Find more information on the festival online.
About Craig Woolheater
Co-founder of Cryptomundo in 2005. I have appeared in or contributed to the following TV programs, documentaries and films: OLN's Mysterious Encounters: "Caddo Critter", Southern Fried Bigfoot, Travel Channel's Weird Travels: "Bigfoot", History Channel's MonsterQuest: "Swamp Stalker", The Wild Man of the Navidad, Destination America's Monsters and Mysteries in America: Texas Terror - Lake Worth Monster, Animal Planet's Finding Bigfoot: Return to Boggy Creek and Beast of the Bayou.